The biggest website for the smallest state (and the smallest devices).
The team at Rhode Island Monthly and Insider's Guide to Rhode Island had a website that lacked user interactivity. Built on a smaller-scale platform that did not allow for easy editing in key content areas, Rhode Island Monthly would need to contact their web developer when it came to many of the site updates.
GuideRI needed a new website or iPhone app to allow for editing/addition/deletion of content. The solution required a custom database with user search, sorting & filtering, geo-location targeting, user-selected favorites, and more. Oh yeah… all of this had to be scaled for smartphones, tablets, and desktops devices while integrating seamlessly with Google Maps and other restaurant applications.
Our solution was simpler. "WordPress."
Search. Sort. Filter.
With the power of custom development on WordPress, GuideRI now has a website that sorts locations by distance and geo-location for users on the go.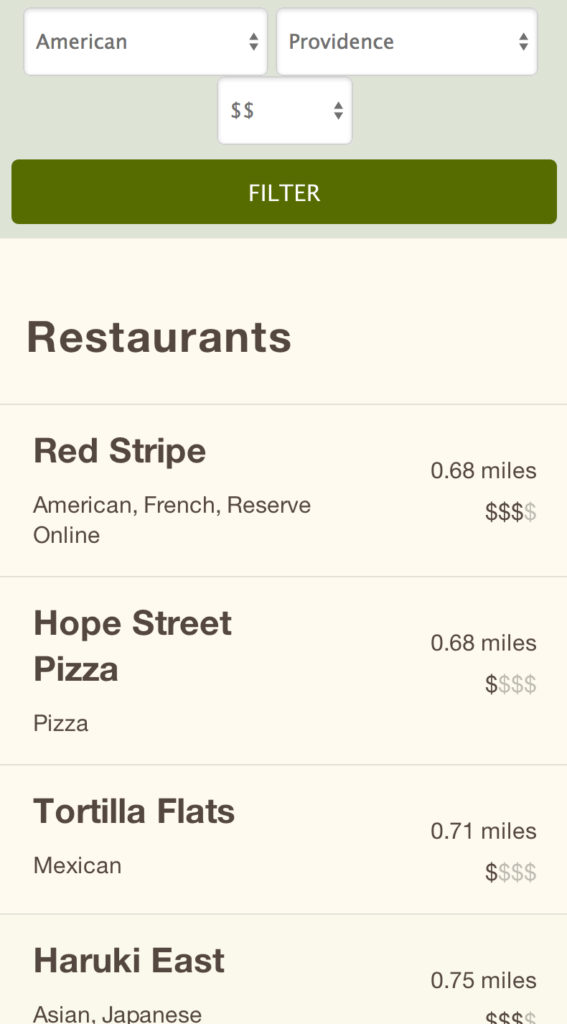 Custom technology was built to both segment listings into different types (Eat, Shop, See, etc.) and allow users to filter by options like price, type, and area.
The client has the power to change and add to these filters at will.
No shackles required.
Custom Fields and WordPress Content Layouts
The power in the hands of the client extends to the individual listings. The client can modify the address, deals, contact information, images, video, social media, and about content of each individual listing on the site. This is also done in a way that is easy to understand and organized.
That's a lot of power.
Making a website an "iPhone app"
Rather than create an app that needs to be discovered through the app store, the GuideRI website has built-in functions to make it a primary part of a traveler's tool belt. Tech was installed on the site to make it simple for users to add GuideRI.com to their existing collection of apps on an iPhone.
Users, tourists, and visitors can also set favorites as well as their GPS location, all right from the website.
On iPhones, people can also call the phone number of a business right from the page, making it simple to book a reservation or inquire about more information.
Google Maps Website Integration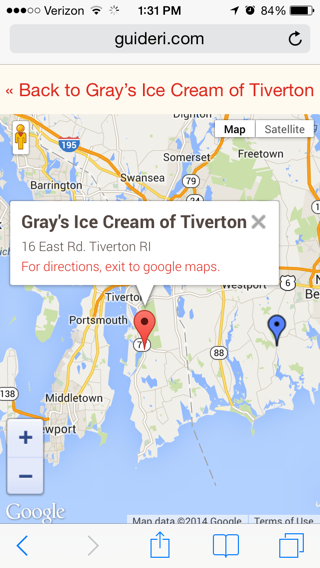 The site also works with Google Maps. Special technology was built to allow a user to view a listing on a map, see where they are in relation to the listing, and get directions using the Google Maps app. This works on desktop, Android, and Apple iOS devices.
Web Development with SEO in mind
Another issue with the original GuideRI website was the visibility of the website. Not many of the pages on the site were developed to be indexed by search engines like Google. You could have a $100,000,000 website, but if nobody is finding it, what is the point?
With WordPress and smart custom development, the team at GuideRI can rest assured that their new website is ready to rank. All pages are easily searchable within the website and externally on Google, Bing, Yahoo, and other popular search engines.
Almost everything is possible with WordPress
For content-driven sites, there really is no other place to go than WordPress. There aren't many complex solutions that can't be developed using the powerful tool as a foundation.