In August 2019, Tumblr was acquired again, this time by WordPress.com. 
And there's going to be a bit more ads on your Tumblr property. Don't want to stick around? This guide will show you how to move your custom domain Tumblr account to a self-hosted WordPress install.
You may also be interested in this article: We Build on WordPress
But before we begin, let's understand what we're getting into.
Self hosted WordPress vs. WordPress.com
It's the oldest question in the book:
What's the difference between self-hosted WordPress and WordPress.com? 
Self hosted WordPress (WordPress.org)
If you want full control over your WordPress install, domain, and brand — this is where you move your Tumblr content to.
So, what do I mean by control?
You can customize your theme and plugins. It's your content to do whatever you want with. You won't have to worry about some big brand swooping in with big bucks to change the course of your publishing platform.
What you need to be prepared for:
Find a WordPress hosting company
Choosing the right plugins and theme for the job
Keep up to date with WordPress updates and security patches
Migrating the data
Why you want to do this:
Full control of data

Install any theme or plugin you want
Use your domain for something more than just a WordPress blog
Migrating the content from Tumblr is the easy part. What you really want to ask yourself is, am I ready to install, manage, and pay for hosting? 
WordPress.com
Sign up for an account and WordPress is ready to rock.
You'll enjoy easy access to WordPress and the latest and greatest from Automattic. Reblogging other WordPress blogs, following authors, and all for free.
Sounds great, let's do this thing!
What you need to be prepared for:
Migrating the data

Back to another giant platform
You don't have full control
Why you want to do this:
You don't want to do any heavy lifting

You're not thinking of doing anything else with your website
Umm…plugins?
If you're someone who just wants to go on auto pilot, WordPress.com might be the place for you. If you're done dealing with others deciding on what happens to your publishing platform — go the self-hosted route.
How to move from Tumblr to WordPress
This tutorial assumes you're using a custom domain on your Tumblr account and you're moving to self-hosted WordPress. If you're using a free version of Tumblr's subdomain, you're going to need to install a redirection plugin for your URLs to work properly. We won't be covering that in this guide.
1. Register an app using Tumblr API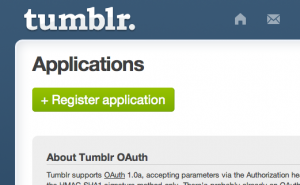 1.a Login to your Tumblr account and visit this link https://www.tumblr.com/oauth/apps. Click register application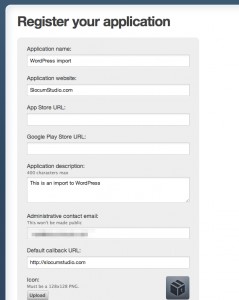 1. b Fill out this form to the best of your ability. You don't need to spend too much time here, just the domain and contact will do.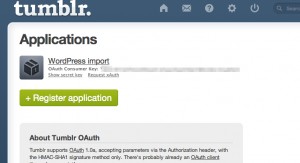 1. c Keep this screen open as we'll need the keys for later on.
Now onto the WordPress side of things…
2. Install the Tumblr importer in WordPress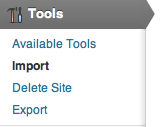 1.a Click on Tools > Import

2. b Click on Tumblr

2. c Click on Install Now

2.d Click on Activate Plugin & Run importer

2. e Click on Authorize Application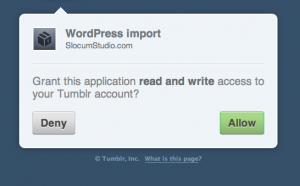 2. f Click on Allow

2. g Verify all your posts are accounted for, select the Author you want to import as and click import this blog.
And we're off to the races!
Pretty painless if you're migrating from a custom domain on Tumblr to your own domain on WordPress. As stated above, if you're going from mysite.tumblr.com there's going to be a bit more you will have to configure to get the URLs working 100%.
Any questions? Let us know!
Pitchy pitchy, selly sell
Don't want to go this alone or have questions about migrating from Tumblr to WordPress?
Check out our Launch Session for 1-on-1 coaching and WordPress advice.
One of our WordPress experts will schedule a training webinar with you to handle all the fun questions for first-time WordPress users.
How do I set up WordPress the right way? 

Can I install an e-commerce store with WordPress?
How do I start reaching more of an audience with my WordPress blog?
You need serious WordPress advice and we've got it for you. What are you waiting for? Schedule a Launch session today!