Hello WordPressers! Our inaugural WeekPress is a double header! This week saw the release of two major game changers in the WordPress community: WordPress 3.4 and Facebook Integration.
WordPress 3.4 "Green" launches
This week sees the launch of the newest version of WordPress.  This version of WordPress hopes to make the WordPress experience more seamless and easy to use.  This is done on both the back and front end of the update.

The included features are:
Live Preview of Themes
Being able to edit a layout or theme is something that benefits literally every user of WordPress.  It is a vital part of any website as it draws the end-user to the website.  For that reason, the new live editing of themes is the most talked about apsect of the new WordPress update.
Live Preview allows the user to see what changes they are making to their page layout and theme as they are doing it.  As the color or text font changes, it can be seen immediately to the right of the edit section, on the same window.  Moving around the page layout and changing the positioning of sidebars and headers can be witnessed as the change is made.
Live Preview alleviates a lot of the stress caused by constantly switching over to preview mode just to see if a small change made a big difference.
It allows for deeper customization as it takes less time to make a lot more happen in the same website.
Embedded Twitter Functionality
This feature enables the user to place tweets into the body of a post by simply pasting the hyperlink of the tweet on a separate line within the body of a WordPress post. When done correctly, it should look like this:
So excited! #3.4

— dan (@TrickyZicki) June 14, 2012
Before, the only way to attain this type of feature was with cheesy third-party plugins or by pasting images of twitter feeds within the body of text.  This was not simple and had little to offer beyond pizzazz and basic networking.
This twitter integration now allows a visitor to interact with all aspects of the service.
Follow or Unfollow the User
Reply to the posted tweet
Retweet the posted tweet
Favorite the posted tweet
Redirect right to the user's Twitter profile
This is a big win for people who want to post a twitter conversation or simply wish to integrate their WordPress antics with the matching twitter posts.  For reaction pieces, it will be nice to head a post with a twitter feed, which can then be commented on below.
In any case, this ensures that WordPress and Twitter accounts are more connected than ever before.
HTML in the Caption Field
WordPress 3.4 allows the creator of posts to place HTML in the Caption Field of an Upload/Insert.
This is crucial for those who want to add links or make style changes to their caption text.  This way, a user can have multiple links right underneath an image – the image being the most dramatic insert in a post.
For businesses and picture bloggers, this is an absolute win.
For business specializing in parts or in services, linking a picture to multiple items for purchase is awesome.
For real estate agents, linking a development picture to multiple listings is awesome.
For photographers, posting links to pages for business or for personal use is awesome.
It is all awesome, and it is all due to HTML in captions with 3.4!
Custom Header Sizes
This updates enables you to make the size of the Page Header different than the "preferred size" on provided themes or premium themes that support this new feature.
While veering from the preferred size is not always recommended, if the user is designing a page that requires a specifically formatted picture, having to adhere to some rule is not always optimal.  Being able to tweak the size allows for creativity in the way a header is designed and in the way a page functions.
This change is a big deal in both a positive and negative light.
+ Creatives can input custom pictures that are a very specific size to aid in the visual display of their website.
–  Custom sizes may not flow well with the theme on certain devices or computer resolutions, making the site look out of place.
(Editor's Note: Many premium themes restrict the Page Header size for formatting purposes.  So do not fret if this feature does not automatically work upon upgrading to 3.4)
Faster Performance
Some under the hood processes got reworked to help make queries and other tools within the WordPress architecture run faster.
Certain plugins, SEO tools, and HTML coding was made more efficient for the purposes of speeding up the loading time of a WordPress-powered website.
The faster performance was created in response to customer complaint on SEO.  Since Google checks page loading time as part of its criteria for a good webpage, having pieces running more smoothly can only help sites and pages make their way towards the top of a search query.
Facebook for WordPress
Facebook has an official plugin for use inside WordPress starting this week as well.
While there have been other third-party widgets and plugins that allow users to view Facebook pages, this is the first time the plugin comes right from the source.  With the first-hand access of the actual Facebook team, the plugin allows for the maximization of Facebook features within a WordPress page or post. Specifically, the plugin adds:
"Like" button within a post to like the post on Facebook
"Send" button to share the post with someone else on Facebook
"Like and Send" commands for the page itself and the attached entity
Customizable "Subscribe" widget to receive posts from the attached page
All of these new features allow people on Facebook to share their content with friends on Facebook. This is of course another way to get a company brand or simple photo out to the masses.
If there wasn't a reason to take your website and make it social in the past, there certainly is now. The addition of Facebook to WordPress makes social media easily attainable, for better or for worse.
(As Facebook becomes more about sharing of content and less about connecting with friends, it can be easy to make Facebook the primary option, relying on WordPress for simple content sharing.  Be careful not to let Facebook tagging and social connectivity become too integral to your WordPress success.  WordPress is its own powerful entity after all and is more of a personal website than Facebook is.)
This Week in Plugins
There were two new plugins introduced this week.
Read it Later
Now you can put a "Read it Later" link next to any posts.
Pretty handy for those who have a lot to say and for those who do not have the time to read it.  This is a feature currently available on many other news and blog sites, so to see it here is fantastic.
For the WordPress user, this plugin helps with web traffic.  I can read a page later or easily save it to show someone else later.  More exposure is always good exposure.
This Read it Layer, the Twitter embed capability, and the Facebook plugin all show a WordPress that is trying to become more connected with the rest of the Internet space. Combined with the Facebook "Like" and "Send" buttons, will there be too much noise on what used to be an already functioning website?  Time will tell.
WP Marketplace
In a huge attempt to make shopping easier, a new plugin has been created.  The WP Marketplace Plugin allows the user to have a fully functioning marketplace within their WordPress site! The features listed for the plugin include:
Front End Management
PayPal Support
Discounts
Demos
Shipping Options
Invoices
Featured Products
The list goes on from there. Suffice it to say, the Marketplace is fully featured out of the gate!  Though there are still better options for sales themes and plugins online, this is still a cool step for WordPress.
MacBook Pro with Retina Display Launches
The New Macbook Pro with Retina Display arrived last week.
The new computer line is a powerhouse for developers with a crisp display, lots of memory, flash storage, and dedicated graphics cards.  In order to take advantage of the new display, however, every program must first be optimized to run on the increased resolution.
Thankfully, as you read this post, WordPress has already been optimized to take advantage of all 2880 x 1800 pixels featured in the new Apple laptop.  Better yet, this change is updated automatically, meaning no extra work on the part of the user!
The only real downside to the resolution upgrade is that certain fixed-size content in WordPress may appear even smaller on the new laptop.
The retina display ensures that all those who will view photo blogs and other websites will be able to see every part of a page with beautiful coloration and sharp textures.  In editing WordPress, the resolution allows for greater multitasking by being able to see more on a page and thus perform more tasks at once. What are you waiting for? Go buy one of those things!
App of the Week: Newsify
Newsify is an iOS app that has been around for two months, but was recently updated to work on both the iPhone and iPad.  The app is a perfect combination of an RSS feed type app and a news app like Flipboard or Pulse.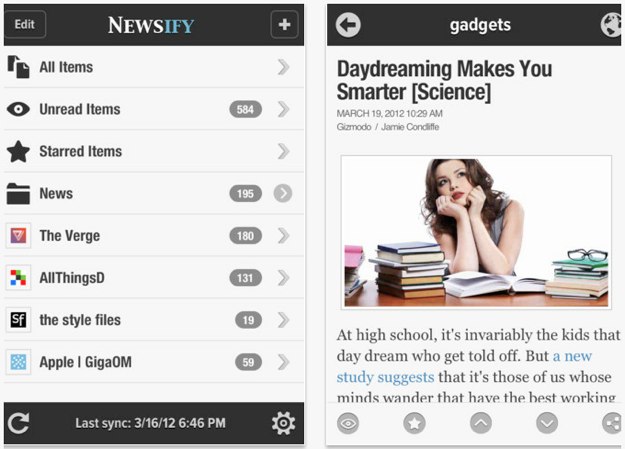 Newsify has been optimized for both devices, and takes the content of your personal RSS Feeds.  It then creates a smart news layout, displaying all of the information from your personal feeds.  It has the aesthetic of a high profile news viewer, but with the personalization and customization of an actual RSS feed.
For those seasoned bloggers looking for an idea or for those who need to be connected to the technological world at all times, this app is a must download.
As of article posting, the app is $0.99 for both devices in the iTunes Store.
And that is this week's dose of WeekPress!
Visit our site next week or subscribe to find out what is going to be hot in the constantly changing Internet world.
If you have any suggestions for other topics to discuss in the coming weeks, comment below.
See you next week WordPressers!