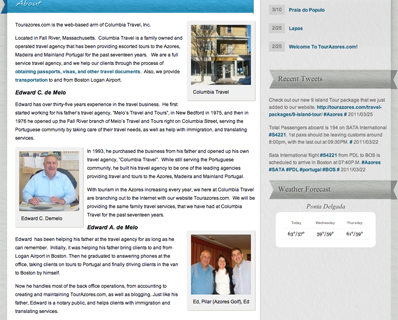 Web Design
Slocum Design Studio places focus on exceptional design, superior standards and a comprehensive process in our web design projects. We are passionate about great web design that will showcase your idea or product and leave a lasting impression on your audience.
Slocum Studio designs are custom and unique to each situation and client. Hand crafted from sketches or story boards and delivered to the web in clean valid markup. The Slocum Design Studio team takes the time and the effort to discover each client's need to create an exceptional product. Our web design projects are built with a solid foundation that allow for pure SEO integration, e-commerce availability and CMS scalability.
Exceptional Design
A superior focus on custom design for each project.
A passionate discovery process that captures your vision.
Quality designs that outlast cheap template designs.
Built on standards
A focus on building web sites that last through the years.
Intelligent structure for improved Search Engine Optimization (SEO.)
Attention to cross platform availability on mobile phone browsers, Internet Explrorer, Firefox and Safari.
Comprehensive Process
Planning and delivering on realistic timelines.
Keeping the client in the loop with project tracking software.
Supporting the project beyond its delivery date.
Content Management Systems by WordPress
If you want the ability to edit your web site content without having to contact someone else, then a content management system is exactly what you are looking for. Slocum Design Studio provides Content Management System (CMS) solutions to do so. By integrating your web design project onto a CMS solution, it empowers your company or your employees to add and modify content on your website, while remaining in control of where content goes, and limiting editors to posting only what they should be.
Content management system clients have the ability to add or change text, headings, images, video and more all in an instantaneous manner allowing you to keep up with societies demand for information that is up to the second. CMS solutions also have the ability to turn your user base into an interactive community, adding your web site to their favorites, and keeping them coming back for more.
What can you do with a CMS driven web site?
Add/Remove/Edit content on your website.
Add/Remove/Edit photos, video, audio, and other media files on your website.
Grant levels of access to your website. Create groups of people that can modify various parts of the website – keep total control for yourself.
Build online communities out of your website.
Dynamic content – change your news, products and announcements whenever you want!
E-commerce design
From one to one-thousand products, Slocum Design Studio can design an e-commerce solution for your business. Our team takes a scalable and intelligent approach to developing e-commerce web sites. We understand what it takes to survive in this market and creating an online retail presence is key to push your product. Well designed workflows for your customer, your staff and you improve bottom line in the e-commerce market. Let us provide you with a solution and plan that will deliver whether you are a start-up or retailer of fifty years.