If you own an e-commerce website or are interested in online sales, this post provides much information. These statistics alone are proof. You need to beef up your e-commerce website by (2023).
In this post, I will help you understand the online consumer shopping trends based on my research and the most prominent companies in the e-commerce space.
In addition, I explain the tools they use and give you tips on what you can do to shore up your e-commerce web business. It's a lot of information, but I think worth looking over!
It concerns us where the economy could be headed, but there is no need to run scared; instead, take action and keep grinding away, improving your website. I hope this post helps you!
The paradigm shift…
You probably noticed (especially during the 20-21 years of the COVID pandemic) that many stores placed online pickup counters up front. And the addition of outside pickup areas. Best Buy probably best mastered the curbside pickup. Now all the major chains have store pickup.
Buy online pickup at the store.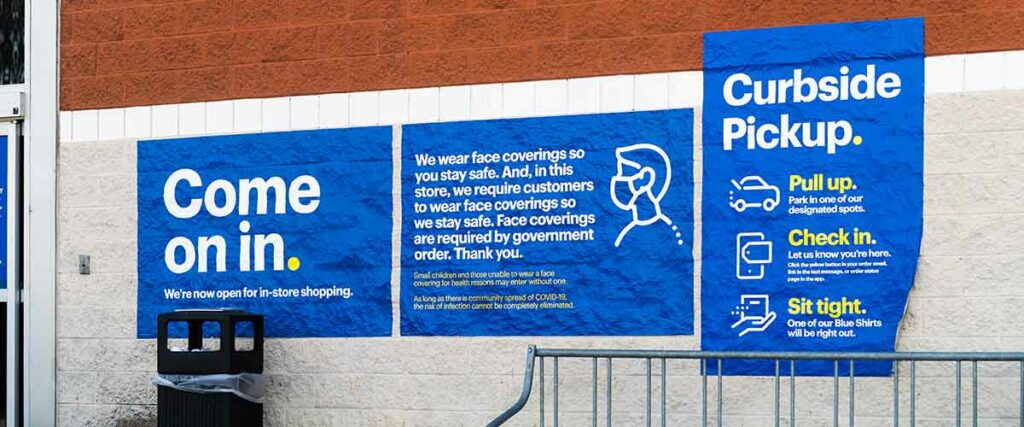 For your convenience and because the article is about a 13-minute read, I place a directory below so you can scan topics that may interest you.
Directory
---
Description list: (tap the numbered item to go down to the subject title)
Understand online sales and the Changing Consumer Habits
Covid forced us to change our habits, some good and some bad. You are probably aware of your bad ones– I know I am aware of mine! But we learned some other things regarding online sales.
The pandemic affects Americans' lives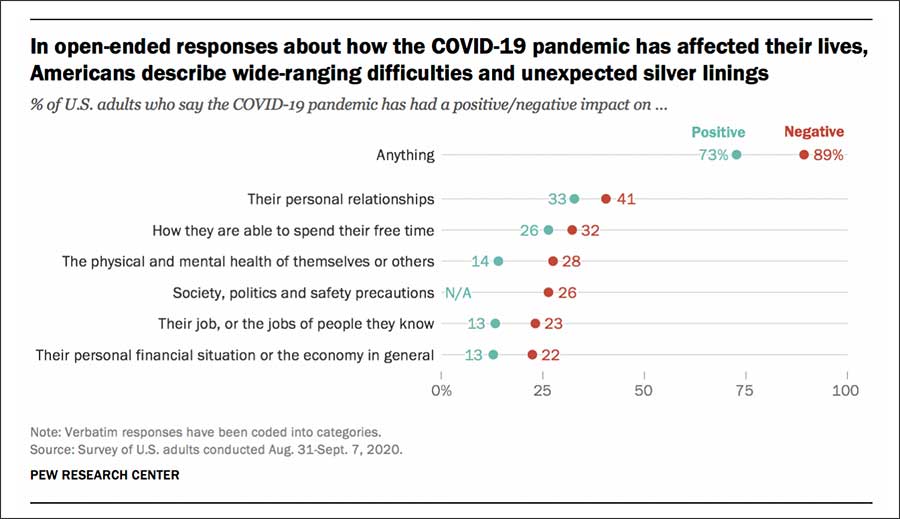 The responses reveal a pandemic that has affected Americans' lives in various ways, of which there is no "typical" experience. Indeed, not all groups seem to have experienced the pandemic equally. For instance, younger and more educated Americans were likelier to mention silver linings, while women were likelier than men to mention challenges or difficulties.
Large retailers striving to understand the pandemic-induced changes in consumer habits is critical to their planning process moving forward.
An interesting report by FTI Consulting analyzes the online retail sales forecast for 2022. I explain some of it in this post and reference many other sources.
Continued e-commerce online sales growth
US e-commerce retail sales had four quarters of white-hot growth from 2020 through 1Q21.
During that period, quarterly online growth year-to-date averaged from 45% to 53%, compared to a much lower growth rate in the mid-teens in the years preceding the pandemic—an equivalent of nearly three years of sales gains in those four quarters.
The report shows that the online market share approached 21%, with online sales growing nearly 43% in 2020 and another 18% in 2021. This is why you must beef up your e-commerce website by (2023).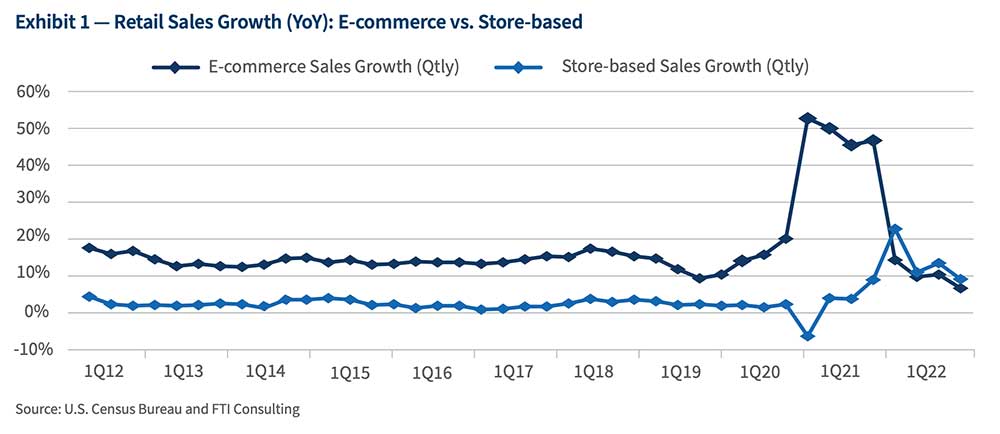 The U.S. Census Bureau recently revised its online retail sales data for 2020 and 2021 to be higher than it initially reported.
Most of us thought e-commerce sales increased during the pandemic, but it was better than expected. Retail sales over this period were revised upward by $140 billion from what was initially reported.
U.S. e-commerce retail sales (LTM) are expected to hit the $1 trillion mark in 3Q22, doubling sales in just four years!
The COVID-19 Pandemic was a Huge Boon for Online Shopping Websites
Will the sales market share gains be retained once people are allowed to roam the stores more freely? It seems that they are with just a slight slowing. So, consumer habits are still in tack.
2021 was, by all accounts, a boom time for most online retailers. As crazy as it is, the COVID 12 pandemic made it so.
Why 2021 was a boom for online sales–
Most Americans were on lockdown, not as restrictive as China's situation but still scary enough to keep people home.
The people who could work from home gained both free time and personal savings.
There was a significant shift in consumer spending from services to goods for these housebound shoppers.
The financial stimulus payments reached three-quarters of American households from Uncle Sam.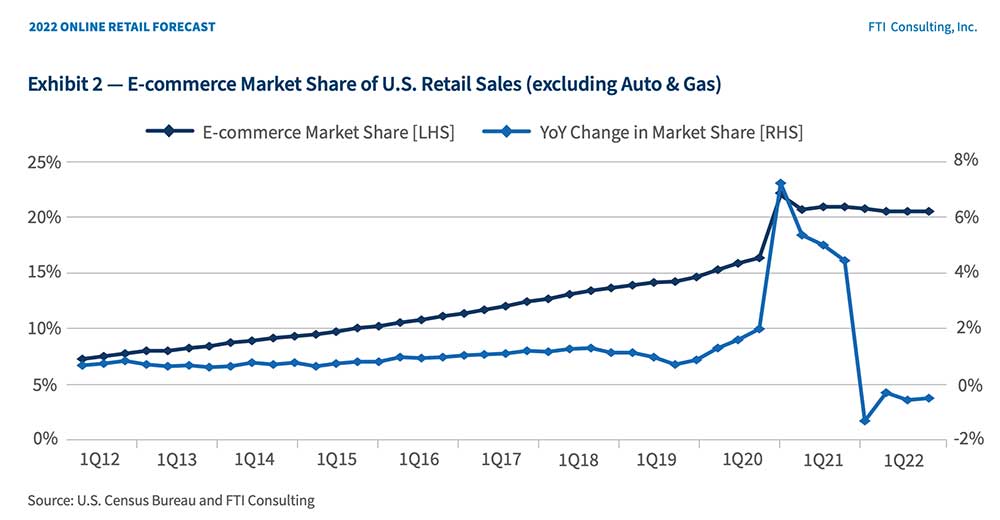 ---
Looking to grow your online sales?
---
The perfect storm
The fed's money injection created an overstimulated economy coupled with a massive spending spree by shoppers since late 2020, persistent supply chain bottlenecks, and upward inflation.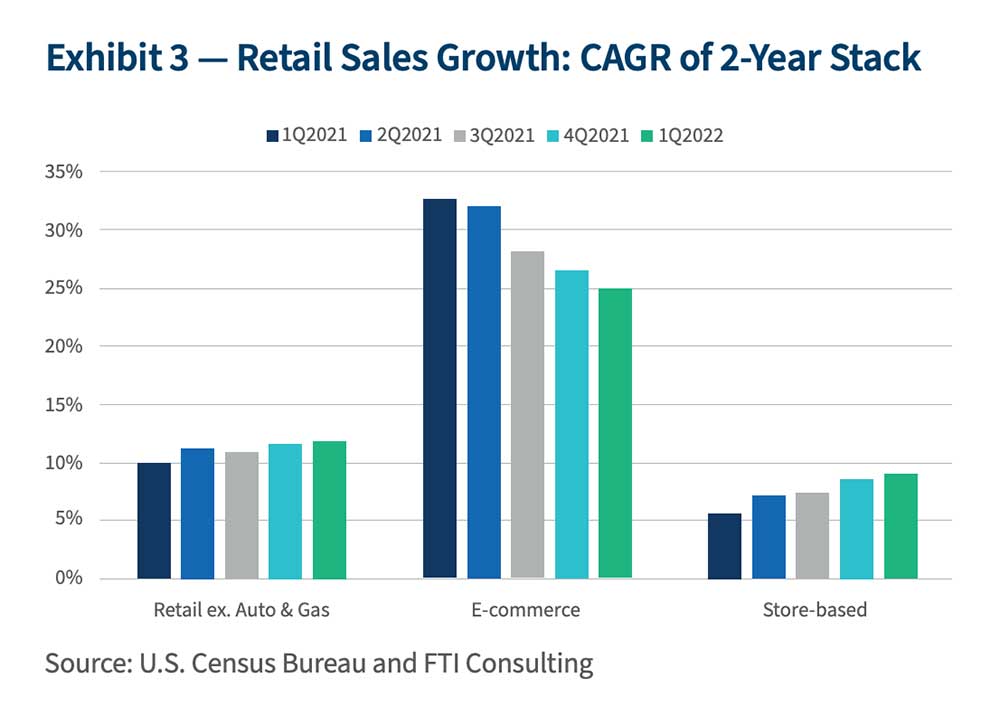 Nonstop Consumer Spending
Hard to imagine, even with shutdowns and the pandemic, less foot traffic to stores, that retail sales increase by nearly 8% in 2020 (excluding auto and gas sales). More impressive than that, retail sales were up a remarkable 14.4% in 2021, even with most nonessential retail stores shut down from late March through May. The best two-year period on record for the retail sector.
Despite consumer concerns about inflation, shoppers spent like crazy regarding online sales last year into early 2022. And this benefited most of the large retailers. From what I've read in this report and others, don't expect this to happen again soon.
Consumers are facing more concerns; a persistent virus and high inflation are at the forefront. And it hits home in the grocery stores and at the gas pumps.
The yearly increase in inflation was up from the 8.3% increase in April 2022 and higher than economists had expected. Inflation is now running at a rate last seen in December 1981.
Many of today's consumers have no personal experience or recollection of living with high inflation.
While the outlook on e-commerce growth is good in the long run, retail sales growth will weaken over the remainder of this year, and inflation will cut into sales for most retailers. Some of these retailers will be reluctant to pass on the increased costs to consumers fearing they will lose their loyalty.

At least not now; what isn't clear is how long retailers will hold off increasing prices. Several large retailers, including Walmart, Target, and Kohls's, have warned of price increases.
Many thought e-commerce retailing would contract– it did not
Most of us thought that since the pandemic-induced gains in both market share and sales in 2020, there would be a contraction in 2021 since more of us started to leave the house. But it did not.
So once again, just as we started to feel safe and running about, the Delta variant hit in March of 2021. Many Americans, even vaccinated, went back to their old habits. And with it an increase in e-commerce retail shopping.
E-commerce sales were up hugely in 1Q21, but that was the last boom resulting from the pandemic. Sales gained another 60 bps in 2021, finishing the year with close to a 21% market share.
According to FTI Consulting, it's too early to conclude, but e-commerce will likely retain much or most of the share gains won from the pandemic. This is why you need to beef up your e-commerce website by (2023)
What About Amazon?
The pandemic caused an online shopping boon exacerbated by stimulus checks, and Amazon was one of the benefactors. In mid-2021, Amazon reported $108.5 billion in sales in the first three months, up 44 percent from the year earlier!
Revenue from merchants listing items on its website and using its warehouse was up 64 percent to $23.7 billion. Amazon employs 1,271,000 employees globally.
Although a substantial online retail player, Amazon isn't the only game in town regarding online sales. Walmart has the advantage that its fulfillment/distribution infrastructure is much bigger than Amazon's (150-plus centers versus 110, according to JungleScout), and it has 4,700 retail locations where click orders can be collected.
Neither of these giants is a threat to Amazon, which still dominates e-commerce with a market share of about 40 percent versus 7 percent for Walmart, and 2.2 percent for Target. What's notable is that their e-commerce businesses are growing faster than Amazon's, or any other of the top 10 U.S. retail e-commerce companies, according to online news site eMarketer.com.
Amazon's e-commerce business has been growing at about 15 percent a year. Walmart is up 21 percent, and Target grew its online sales by 23 percent.
---
---
Top 10 Shopping Websites Used By U.S. Shoppers for Second-Hand Product Search
Amazon – 66%;
eBay -37%;
Facebook Marketplace – 25%;
Craigslist – 18%;
Bonanza – 14%;
Close5 – 14%;
Etsy – 14%;
Shopify – 10%;
OfferUp – 9%;
Poshmark – 8%;
Other- 47%.
What are Shoppers Buying Online?
Online shoppers by Beauty & Personal Care, Clothing, Books product categories. Groceries, Cleaning Supplies, and Over-the-counter Medicine categories are purchased more in brick-and-mortar stores.
Top Products Consumers Buy In-Store:
Groceries;
Cleaning Supplies;
Over-the-Counter Medicine.
Top Products Shoppers Buy Online:
Clothing;
Beauty & Personal Care;
Books.
Top Products Shoppers Buy on Amazon:
Books;
Home & Kitchen;
Electronics.
Top Products Shoppers Buy at Walmart:
Electronics;
Beauty & Personal Care;
Groceries.
Top Products Shoppers Buy on both Amazon and Walmart:
Clothing;
Pet Supplies;
Vitamins & Dietary Supplements.
Source: sageseller.com
---
Market share of leading retail e-commerce companies in the United States as of October 2021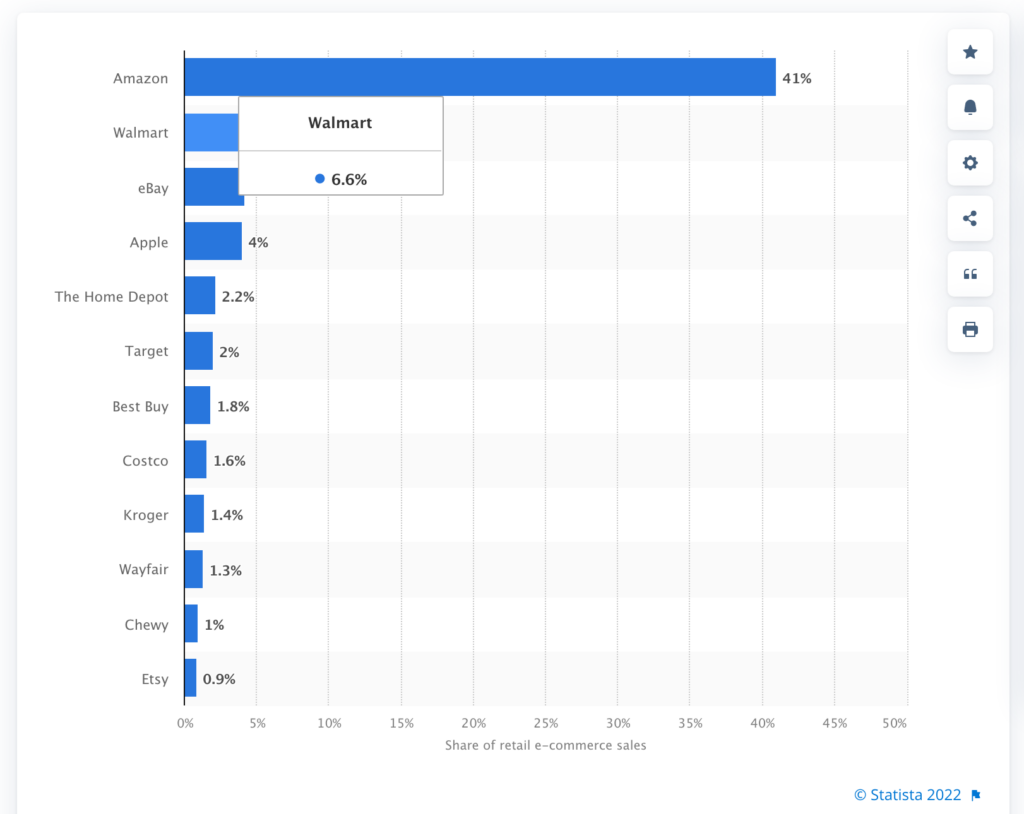 ---
United States: retail e-commerce projected revenue for 2017-2025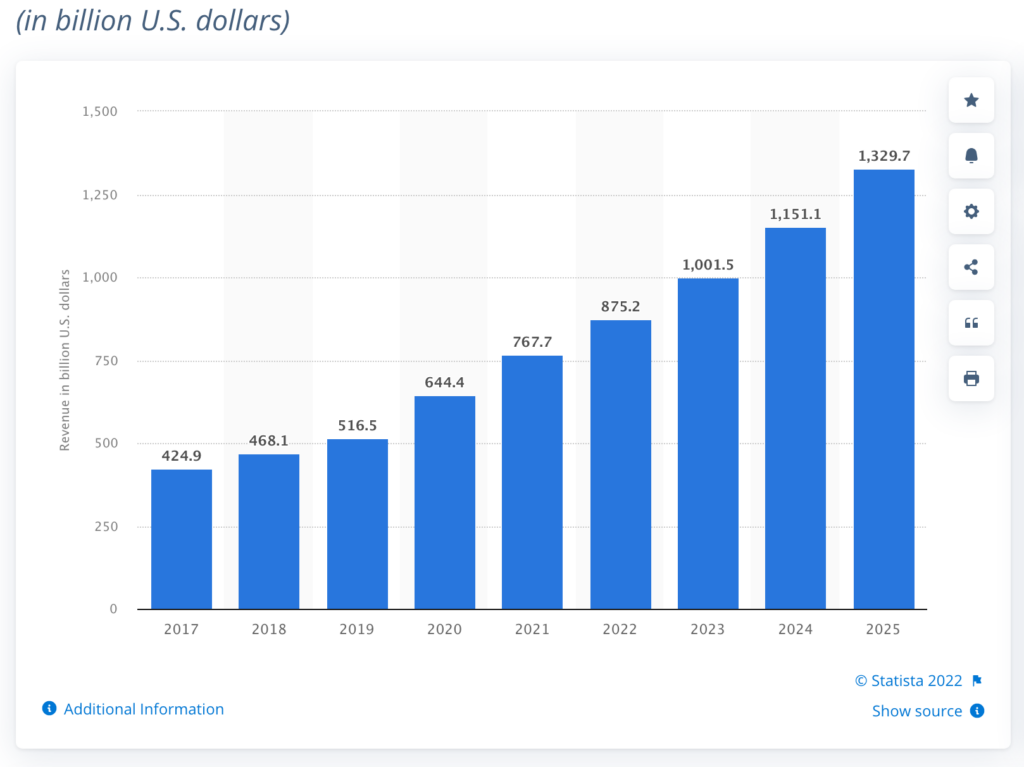 Published by Statista Research Department, Jan 3, 2022
Revenue from retail e-commerce in the United States was estimated at roughly 768 billion U.S. dollars in 2021. The Statista Digital Market Outlook forecasts that by 2025, online shopping revenue in the U.S. will exceed 1.3 trillion dollars.
Mobile commerce sales as a percentage of total retail sales in the United States from 2018 to 2025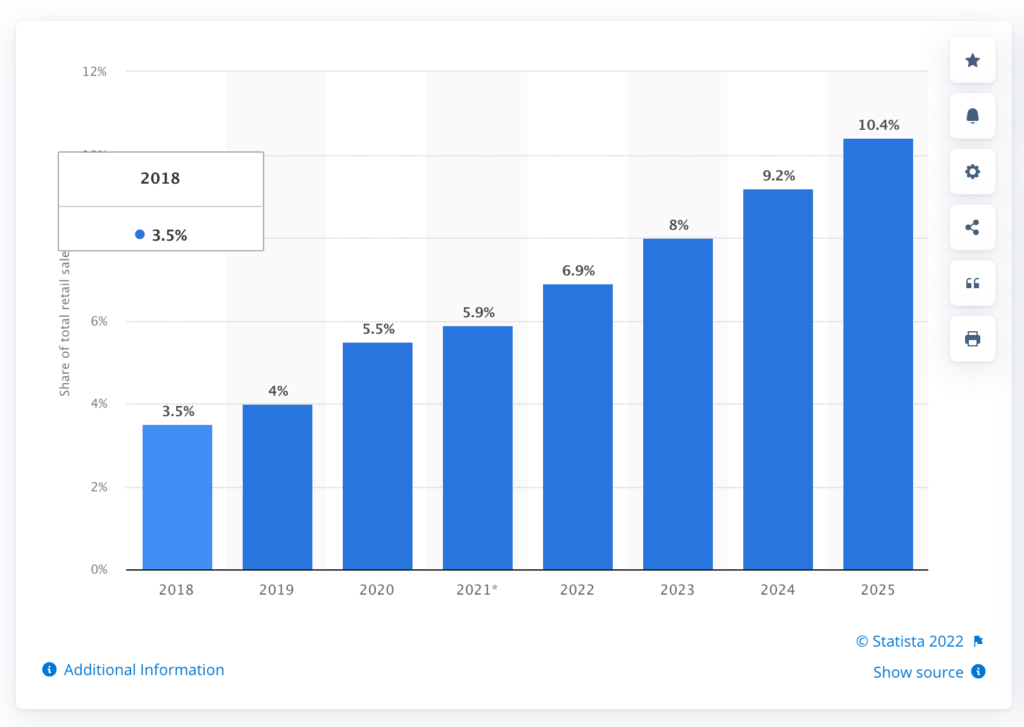 Published by Daniela Coppola, Aug 20, 2021
By 2025, more than ten percent of all retail sales in the United States is expected to be generated via mobile commerce. This figure would represent a growth of almost seven percentage points since 2018. M-commerce accounted for nearly six percent of all retail sales in 2021.
---
U.S. online retail sales will hit $1.07 trillion in 2022
FTI Consulting projects U.S. online retail sales will hit $1.07 trillion in 2022, an increase of 11.7% over 2021 and consistent with the pre-pandemic growth trajectory for the channel. Our 2022 forecast represents incremental online retail sales of $256 billion above our pre-pandemic forecast model.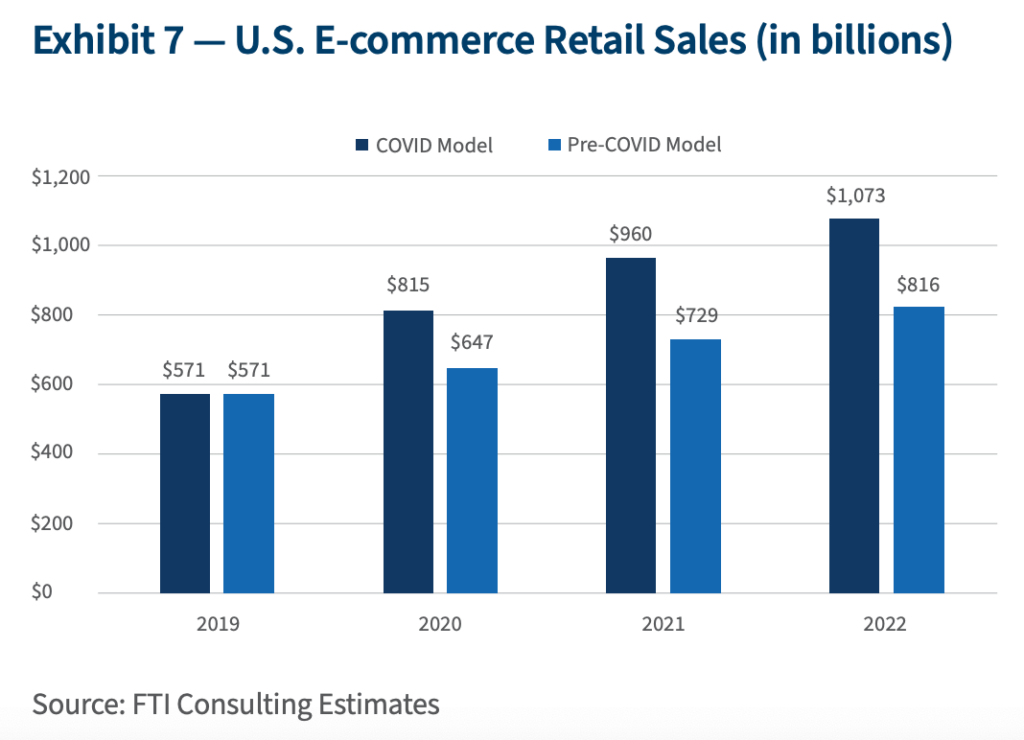 As for market share, FTI Consulting forecasts model puts the online channel's share of U.S. retail sales (excluding auto & gas) at 22.1% by year-end compared to 20.8% in 2021 and 15.2% in 2019, an impressive gain of nearly 700 basis points (bps) over three years compared to annual market share gains of about 130 bps before COVID.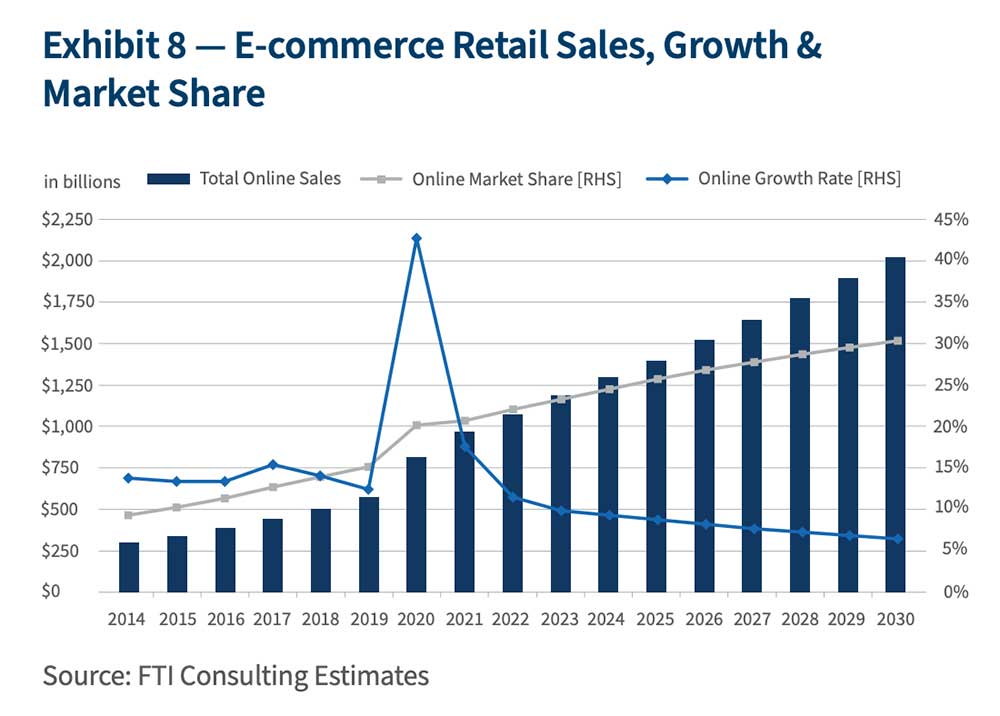 FTI Consulting project U.S. online retail sales will surpass $2.0 trillion by 2030 (Exhibit 8), while total online market share will approach 31% by the end of the decade compared to 21% at the end of last year.
---
What does all this mean for you and me?
It is hard to write that everyday life is returning to normal; what is normal these days? Nothing will be the same pre-COVID-19; we shop differently now than we used to.
What is interesting is that new shopping habits that we acquired during the pandemic are mostly sticking. Now evident since mid-2021 that the pandemic's impact on online shopping wasn't merely a one-time boom that will disappear with the virus.
Our clothing clients tell us that in-store visits are coming back, and their online sales remain pretty strong. Shopping for clothes makes sense now since most of us we're not getting out, visiting venues, traveling, etc. Not to mention some of our clothes don't fit quite right now.
As for myself, I continue to shop online, but I will visit my local small business for things I need. Supporting them is important to me.
As for business, we are a little more conscious of our expenses since many have increased. And the cost of gasoline hits home with traveling back and forth.
---
---
What are you doing to Grow Your E-Commerce Business in this Market?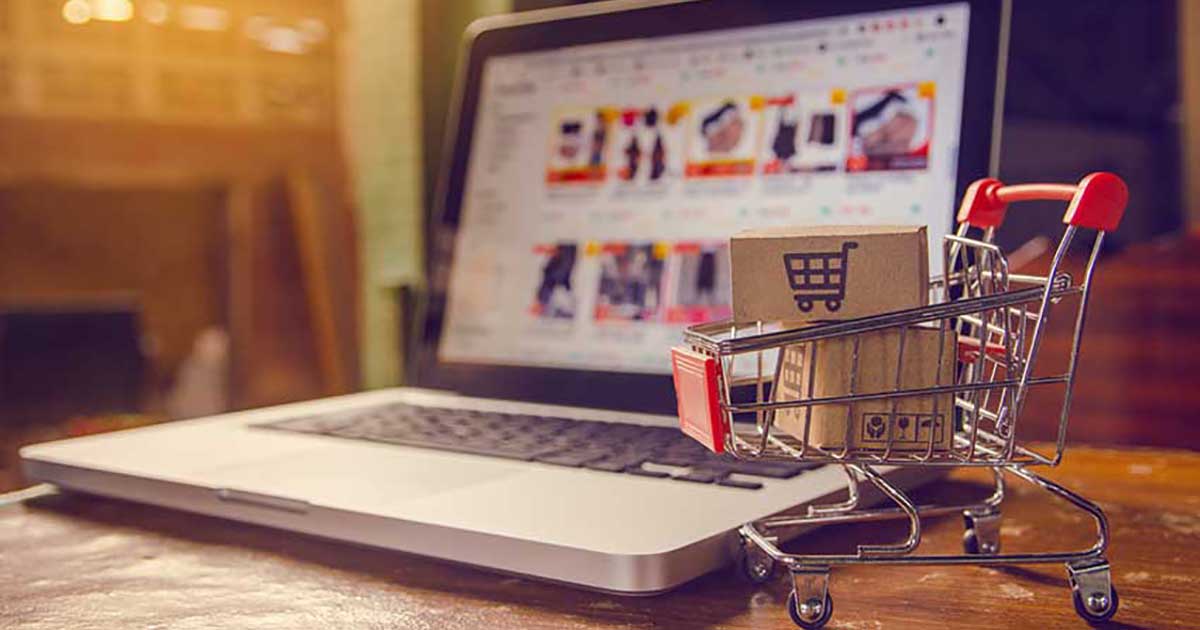 10 Tips to keep your E-Commerce Website Humming Along in the years ahead
One area of photography making significant gains is 360-degree product photos. Shoppers like the experience of viewing as many angles as possible. It's also a better experience than scrolling through 8 photos on the same product.
What you can do:
Create a slide show gallery that allows customers to see the product from different angles.
Consider embedding a zoom or 360-degree photo feature so your customers can see more details.
Photographing real people interacting with your products can make a sale if you can afford it. It's better to show a watch on someone's wrist than on a table.
2. Use customer reviews if you have them on your product or service page.
If there is one thing we have learned from Amazon, it's the power of product reviews. Display the reviews and testimonials you have received from customers on your product pages.
Like Amazon, the more people that see reviews on a product or service are more likely to buy.
What you can do:
Encourage buyers to leave trusted reviews on your e-commerce website.
Display an area under your product (products & Homepage) for testimonials.
Add a widget or section to your website for user-generated content. Nothing is more powerful than someone reviewing a product that they use regularly.
3. Allow customers to contact you.
Cover the basics by making your site as easy to navigate and the checkout process seamless as possible. Online shoppers are more likely to purchase if they can reach support quickly.
What you can do:
Have contact information on all pages.
Display your phone number, email address, and store location.
Add a frequently asked questions (FAQs) page; this helps curtail needless calls.
Consider installing a chatbot; this opens another communication channel for your customers.
Let customers know in advance of your response times.
4. Be consistent with your brand's graphics.
Your brand separates you from your competition. So it goes without saying an e-commerce website should convey your brand's values. The online shopper should see the same graphics, colors, fonts, and logos across all social media channels. The messaging should be the same.
What you can do:
Spend time choosing your colors, fonts, and logo style.
Match your product pages to your brand style. If your colors are light and airy, then portray that on your e-commerce website.
Work with a website company that allows you to customize your e-commerce website pages.
---
LOOKING TO GROW YOUR BRAND ONLINE?
---
5. Optimize your product pages
What good is having a great product or service if it can't be found? Like good navigation and imagery, optimizing each of your product pages is essential.
What you can do:
Add keywords relevant to your product or service in the header titles.
Use Alt Tags on all of your images.
Place the Buy Now button in a prominent place on the page, preferably above the fold.
Add features like save, Add to wish list, product recommendations, etc.
6. Create an easy check-out experience.
No one likes surprises (almost no one), so if you want to eliminate shopping cart abandonment, you need to pay attention to this section.
Your check-out page needs to be simple to understand and navigate. Have clear writing on shipping fees or estimated shipping dates. Include information on what to do if they experience an issue with their order.
What you can do:
Only ask for what is necessary to purchase a product.
Be upfront with shipping costs.
Spell out a clear return policy on your check-out pages.
Provide various payment options– like PayPal, Credit Cards, Apple Pay, etc.
Explore the use of a "one-click" check-out option if available.
7. Use of color and Graphics
I'm sure you have been on many shopping sites that incorporate nicely colored backgrounds or image blocks that make the product pop! There have been many studies on the use of color to provoke action.
What you can do:
Use the colors of your brand
Be careful not to overdo it with colors, and be sure to use colors that complement one another
8. Use Clear, user-friendly navigation
Your goal is to provide a pleasant user experience for your shoppers. A good e-Commerce website should enable your customers to find what they need quickly.
You should include a header navigation menu, product category pages, on-site search, and product filters.
What you can do:
Have a way back to the Home page.
Show your main navigation menu on top of your website.
Include a search bar and relevant filters.
Have a Call to Action button on each website page.
Have breadcrumbs activated on your product pages, allowing visitors to return to product categories and subcategories?
9. Keep it Clean
Want a good example? Take a look at the Apple website.
It doesn't get any better; everything is easy to find, with fantastic imagery, graphics, and navigation.
What you can do:
Utilize white space– just like the Apple website
Use bullet points and short paragraphs
Don't clutter that product page, spread images out, and use 3 or 4 products.
10. Make it Mobile-responsive
You know from reading this post that mobile-first is here now. You must pay attention to this area. Having your website display consistently across all devices is crucial.
What you can do:
Provide the same shopping experience across all browsers and devices
Be sure to align products with proper and consistent padding and spacing. Nothing is more perplexing than seeing products out of joint
Check the page loading speed; Google ranks pages that load slowly
Not to exclude the Shopify users, you might be interested in this article, Shopify vs WooCommerce.
---
---
5 Trends Shaping the Future of Online Shopping that you should know
It's crazy that your website shares the same internet space that Amazon, Walmart, and eBay do, so you might say that access to the retail playing field has leveled.
E-Commerce has changed buyer habits
From reading the statistics in this post, you know that e-commerce has changed how buyers shop and brands approach customer service.
Maryville University published an article on the future of online shopping. Pointing to the future of online shopping depends on savvy professionals who can create a personalized, engaging virtual shopping experience for consumers. I break down the main points below.
They went on to write that those entering a career in business administration must adopt the latest digital technologies and tools — such as data analytics, machine learning, and mobile trends — to meet the demands of today's online shoppers.
Consumer Data and Analytics Improve Marketing Tactics
Business owners are experienced in market research analysis, using various tools to process customer data and uncover insights.
In the future, and even now, online shopping relies on capturing shopping behavior patterns. Again, Amazon is doing that right now. Check out an item on Amazon, and you will soon see an email in your inbox suggesting a similar product.
You probably experienced this while going through your Facebook feed, products popping up that are often purchased together, showing you an ad for a specific item you have previously viewed.
As an e-commerce website owner, you must be a strategic thinker and computer proficient. There is no better time than now to develop a strong e-commerce presence. This is why you need to beef up your e-commerce website by (2023)
Personalized Online Shopping Experience How Machine Learning Helps

Machine learning is based on algorithms that can learn from data without relying on rules-based programming. With the massive amounts of volume and complexity of big data that the world is immersed in have increased the potential of machine learning and the need for it.
So it is– Shoppers require a more personalized experience in the world of e-commerce. Accordingly, consumers are more likely to shop for brands that recommend products based on their previous shopping experience. Including relevant offers, think Amazon?
User profiles
Analysts use these profiles and insights (with the help of AI) to deliver personalized recommendations and relevant content based on an intelligent algorithm.
So it's no surprise when online stores personalize the shopping experience, they can experience a jump in sales conversion rates of 15% to 20%, according to McKinsey.
Manually analyzing customer information is being replaced. Data analysts now use artificial intelligence (AI) and machine learning technologies to compile data and create customer profiles.
A report from Liveclicker, the digital marketing solutions provider, found that businesses investing in smart personalization in e-commerce can expect up to a 20-fold return for every marketing dollar they spend.
---
Looking to grow your brand online?
---
This is why you need to beef up your e-commerce website by (2023)
Mobile Shopping
According to data from Statista, online purchases made with smartphones account for more than $345 billion in retail sales.
One big reason why your e-commerce website needs to be mobile-friendly. Another is that retail buying through mobile devices accounts for almost 54% of online orders, according to Statista. So smart companies are creating a mobile-friendly e-commerce experience.
A business's e-commerce store should be accessible by computer and optimized with a design or application that makes it easy to browse and buy from a smartphone, tablet, or other mobile device.
Automated Commerce and Voice Technology
A report from Coupon Follow, the retail coupon code tracker, found that nearly half of millennials have used voice technology to buy items online. Someone might add an item to their online shopping cart by calling out to Alexa or Amazon Echo.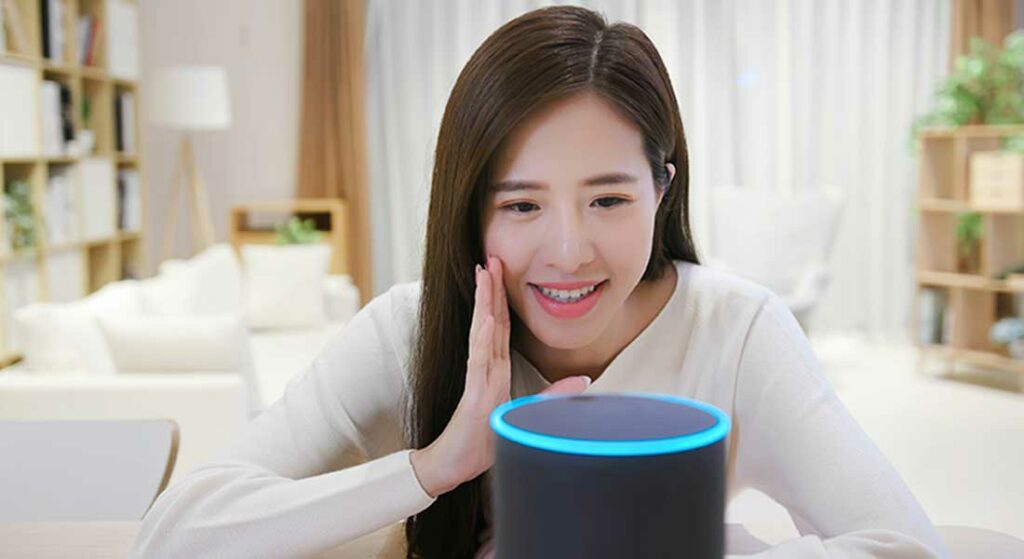 While not everyone uses smart speakers to order online, a sizeable number of these device owners do. Adobe Digital Insights report found that 32% of smart speaker owners use their devices to compare product prices. This can have a big influence on consumers' purchasing decisions.
Voice-enabled shopping is expected to reach $40 billion in the U.S. by 2022, according to a survey from business consulting leader OC&C Strategy Consultants.
Social Media Platforms and Direct Sales
More and more businesses realize social media platforms as effective places to make direct sales. Billions of people use social media platforms daily, so it makes sense to utilize them.
As many as 50% of Instagram users utilize the platform to find products.
Many online shoppers look to Pinterest, Facebook, and others for ideas about what to buy.
71% of shoppers say AR technology encourages them to buy, according to Deloitte research. Having the ability to test or try out products builds confidence in a purchase.
Augmented reality (AR) is an enhanced version of the real physical world that is achieved through the use of digital visual elements, sound, or other sensory stimuli delivered via technology. Pretty mind-blowing where all this e-commerce business is headed.
Winding down
Knowing how to create an engaging e-commerce web experience and adapt to the latest digital technologies and tools, such as data analytics, machine learning, and mobile trends, will ensure you a place in the fast-moving world of e-commerce.
And who knows, maybe down the road, you'll compete with Amazon? Like in a long road, a real long highway kind of road.
Tell me what you think of this article, and what your planning for 2023 and beyond.
Subscribe to our newsletter!