The other day I went shopping for a shower head.  I wanted to see if my shower head, a Moen product, was still under warranty. Since the manufacturer mission statement reads: "Buy it for looks buy it for life", I thought I would search the Moen website first. I learned something to— Why you need a FAQs page.

In this post, Why you need a FAQs page- you'll learn about all of the main points to help you build a good FAQ's page. There are examples and checklists to guide you. This is about a 5 to 6 minute read.
Moen's FAQs page.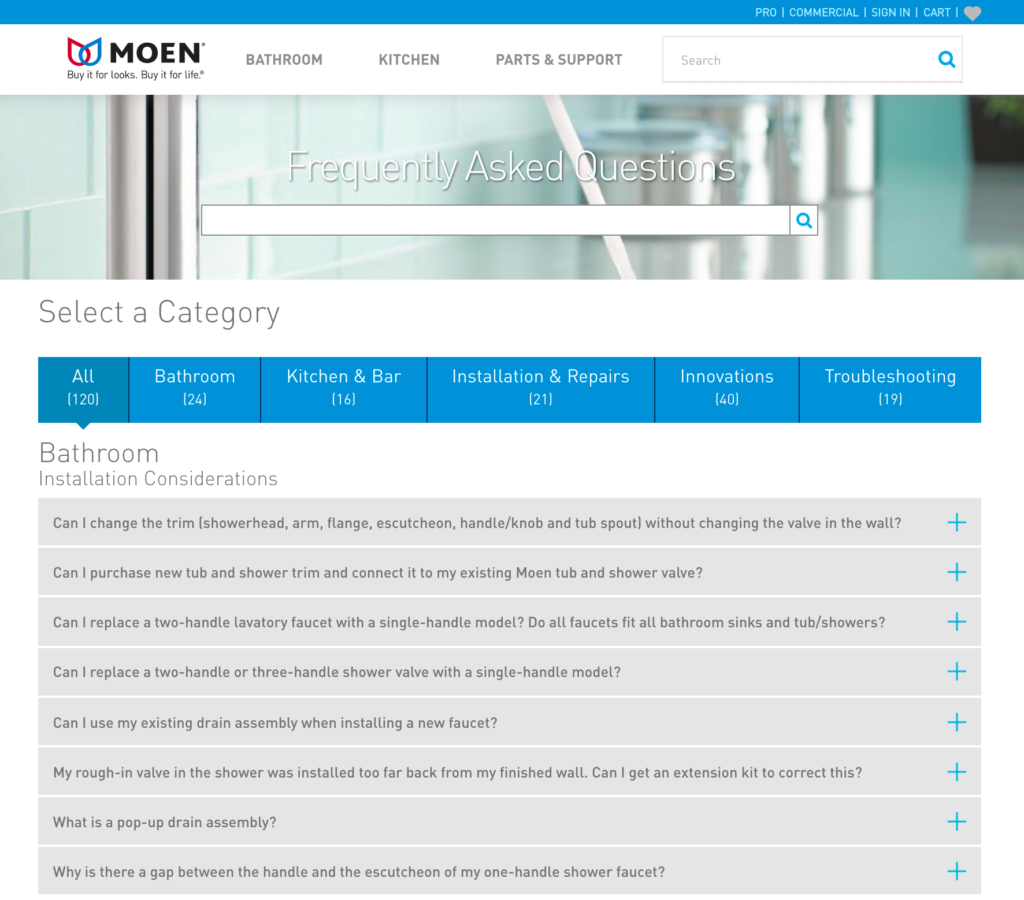 Moen's FAQs page is extensive and I wouldn't expect a small company to have anywhere near this kind of detail. But you can learn a lot by the questions these large sites index on their FAQs pages. When you start off making your FAQ's page concentrate on the structure of the page first (categories, lists etc), then you can add questions and answers that you think are important for your customers to know about your products or service.
Do this right and your website may become a valuable resource for your customer base – a goto place to get answers. It will add credibility and authority and will also make for a good shopping experience for your visitors.
What is a FAQs page?
FAQs stands for "frequently asked questions". Many websites, especially one that is an e- commerce store, should consider having a FAQs page. The FAQs page will likely be the first point of contact for your customers before they contact you directly with their questions.
After all, we're trying to get our visitors to click the buy now button and that only happens when they feel they have all the answers they need.  Answers that help them make a informed decision.
Why should your website  include a FAQs page — here are some benefits?
It may give your customer the answer to a question or questions without the need to email or call you, thereby wasting your time and theirs.
It's very helpful for those redundant questions that you find yourself being asked over and over again. And it may alleviate a customers purchase anxiety by providing some answers that they may not see in your product or service description.
It'll save time, both for you and your customer. A well organized FAQs page is a great resource for your customers to read through. Taking the time to write a constructive FAQs page helps your customer get the answers they need to solve their problem.
A FAQs page identifies you as an expert and gives the customer the impression that your company is a professional organization.
FAQs pages may also help with navigation since each question may be hyper-linked to a product or service page within your website. This might be a good place to capitalize on converting a potential customer. For example, lets say you're explaining how to repair or replace a shower head and on that page you recommend a plumber.  Would you find that helpful? By doing this you're not only adding value but you're solving a customers' problem. This can apply to a product or service that you offer.
Many customers enter your site through pages other than your home page. Actually that is how I entered the Moen website. By asking a question in Google search I ended up on Moen's FAQs page. As I read the answer to my initial question I became interested in other items, prompted by answers to questions that were on the FAQs page. Questions that explained the operation of other bathroom fixtures. Fixtures that I hadn't intended on purchasing but found to be very useful.
Having a FAQs page could build on the relationship with your customers and established trust. You're acknowledging that you may have a complicated product or service so you want to help your customer through the process of purchasing or servicing it. This not only improves the perception your customer will have about your company but it also shows that your company is being transparent about addressing questions.
Well written FAQs pages can benefit customers as they move through the purchasing process  providing them with answers to questions they might have not considered but find very helpful.
How do I know if my FAQs page is being read?
With Google analytics is easy to see if this page is being read. You'll be able to determine where your visitors are coming from and how long their staying. This will allow you to critique your page as more data comes in. If the page clicks and time spent increase then you know its becoming a good resource.
Stay connected
We're always hard at work putting out new content covering WordPress, marketing, and SEO news. Stay connected with us 100% spam FREE.
How do I build a FAQs page? where do I get the questions and answers from?
Start off by mapping out the most common questions, the redundant ones that you have been asked.
Don't attempt to build out a FAQs page like eBay on your first try. Instead start with the basic questions and answers so you're not overwhelmed.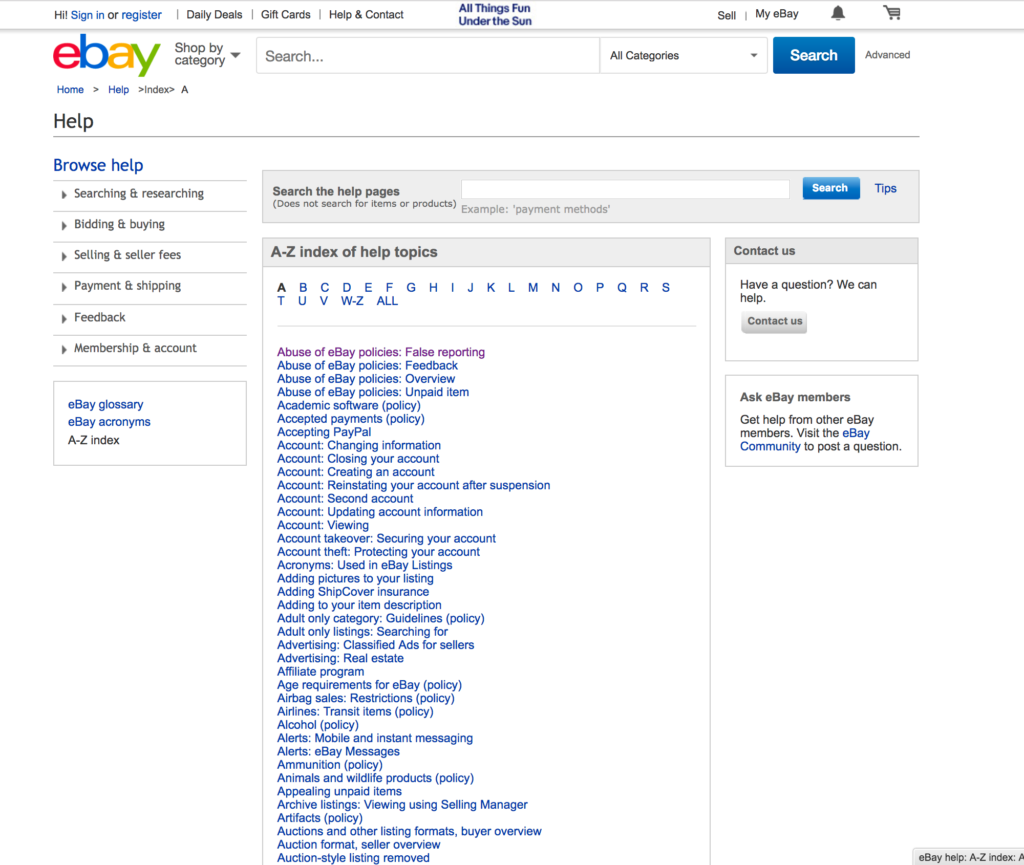 Try to keep your focus on relevancy, think of how your customer would perceive your product or service. Or better yet ask a few questions to yourself before you shape your frequently asked questions.
Make your list of questions under each category
Here are some examples:
"How to select a size"
"How much weight will this product carry"
"How does shipping work"
Think of how you can ask the right questions that not only educate customers about your product or service but also creates demand.
Do I Answer my FAQs questions myself?
This is an important factor. Always try to write in a positive manner, even if you're dealing with a something negative. For example, let's say your product is a canoe, one that might tip easily on a heavy person.
Your question might read: "Is this canoe stable for heavy person?
Answer: "It may be a good idea to test the canoe out in warm water for it's tipping point before heading out on your trip" Perhaps you might mention the load capacity in the answer as well.
Don't get over technical and risk loosing your reader by giving them far too much information.
You might also consider basing your questions from your customers' point of view. (e.g. "How do I…) and you answer with (e.g. "You should…"or "We can provide etc.."). This works well with the traditional questions like the one above in the case of the tipping canoe. 
Take the time with each question on your FAQ page, focusing on the goal and what you're trying to communicate. If it's about purchasing, then try to address the concerns that you think your customer will have.
If you don't have those questions in mind or are unclear about what a customer would ask then reach out to some of your core customers and ask.
Use images to explain complicated points or to demonstrate a better way to use the product or service.
Don't forget to take the opportunity to end some of your answers with a call to action that links to a product or service sales page. Highlighting an accessory or service that might enhance the users experience with your main product is an example of this.
How can a FAQs page help in building my web traffic?
Your FAQ page is in fact a stand alone page. How many times have you Googled a question to find yourself ending up on a FAQ page?
For example I Googled this question.
How much weight will my Old Town canoe carry?
At the top of my search was the Old Town Canoes & Kayaks FAQs page.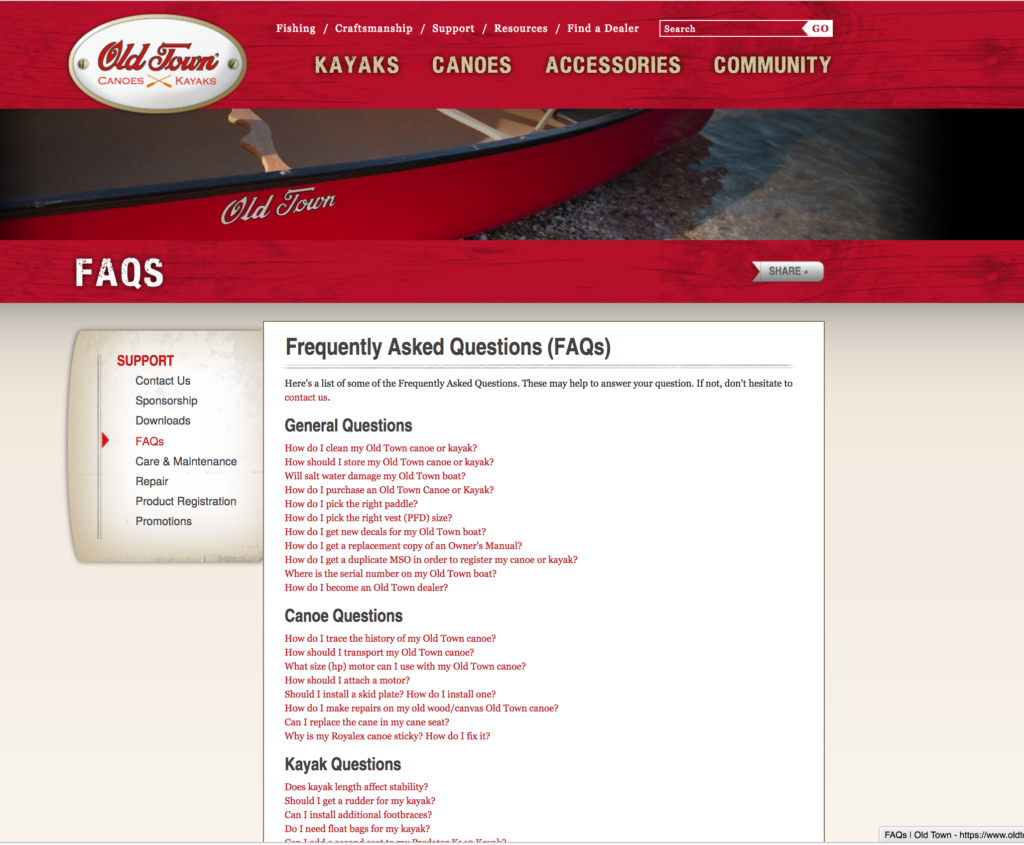 Not only did I find the answer to my question but I also found more information and answers to questions that I wouldn't think of asking.
How do I clean my canoe?
How should I store it?
Will salt water damage my canoe?
How do I pick the right paddle? This answer led me to a page with a video on how to choose the correct paddle!
Do you see how this can help with SEO?  By hyperlinking each question to a separate page, you can help surface search answer through Google and your own site search.
---
FAQ Layout
In the Old Time Canoes example above you can see they organized their topics in groups – general questions, canoe questions, Kayak questions and so forth. Make it easy for your viewers to find answers to their questions. You might also consider using a red color for the questions and black for the answers, embolden your questions, or even using a larger type for the questions and regular size for the answers. This helps the reader know where the answer has ended and a new question has started.
Stay connected
We're always hard at work putting out new content covering WordPress, marketing, and SEO news. Stay connected with us 100% spam FREE.
Why you need a FAQs page — final points
Consider using a form (a suggestions form), that you can add below the FAQs section. There you can solicit your readers to suggest a question about a product or service that they think is important to have on the FAQs page.
In your product or service pages direct your customers to your FAQ page to provide answers to questions that they may have.
If you have a lot of FAQs then consider including a search box on the page. This again saves time and helps your reader get accurate information.
A good FAQs page can help balance your site, add credibility, and show that you are an authority in your industry. Not to mention it can help with your sales efforts by leading readers back to your product and service pages.
FAQs pages are not for all websites so you'll need but e-commerce is an essential one that should be referenced.. If they're not, maybe having one on your website will give you an edge – and that's always a good thing.
Here at Slocum Studio we highly recommend them.