https://slocumstudio.com/e-commerce-sales/If you're a user of Instagram, then you know it only allows you to link to 1 website or page in your profile's description (unless you're paying for ads).
This limits your company's ability to promote a sale, at least by traditional methods. In those rare cases, some Instagrammers are making serious money just by posting selfies. This post Turning Instagram Followers into buyers, is about a three-minute read.
The truth is it is a gradual process when it comes to building your brand on Instagram.
Some interesting statistics when it comes to Instagram users. You might find some of these stats helpful in the list below, with your marketing efforts. This post has been updated in the first quarter of 2020.
Instagram now has 1 billion active users each month
Most engaged social media platform right after Facebook
Instagram can generate over four times more interactions on Instagram rather than Facebook
Influencer Marketing
8 out of 10 consumers have purchased something after having seen it as a recommendation by an influencer
64% of U.S. 18- to 29-year-olds are Instagram users
52% of female internet users are on Instagram compared to only 42% of male users
One hundred ten million Instagram users are from the U.S.
Over 200 million Instagrammers visit at least one business profile daily
User-generated content has a 4.5% higher conversion rate
Posts with a location get a 79% more engagement
Female influencers on Instagram aged 18-24 account for 3 million of influencers
Female and male influencers aged 25-34 are next, with 2.2 million
30% of Instagram users earn between 50,000 to 75,000 thousand yearly
26% earn more than 75,000 per year.
There are more than 600 million users on Instagram
Cristiano Ronaldo has over 195 million followers
Arianna Grande has over 170 million followers, making her the most-followed Woman
Top USA filters are Clarendon, Gingham, and Juno/Lark
The most popular Fashion Filters are Kelvin, Valencia, and Nashville
The best hashtags for marketing #social, #branding, #sales, #business, #contestalert, #sweepstakes, #smallbiz, #deal, #discount,
#digitalmarketing – 38%, #marketing – 12%, #socialmediamarketing – 9%, #socialmedia – 7%, #seo – 6%
Instagram is used by 60% of U.S. brands, "Engagement with brands on Instagram is ten times higher than Facebook, 54 times higher than Pinterest, and 84 times higher than Twitter."
Top brands post 1.5 times per day
5% of Instagrammers take action after being inspired by a post, like visiting a website, searching, shopping, and telling a friend
Top brands on Instagram, #1 Madewell, #2 Tiffany & Co, #3 Away, #4 WeWork, #5 Glossier.
Best days to post on Instagram are Tuesday, Wednesday, Thursday, and Friday
Introduced sponsored post advertising targeting US users
Launched video sharing
Allows users to send photos to specific people
Allows 60-second ads for all advertisers
---
Connect with consumers using Instagram direct
"SLIDE INTO THOSE DM'S" Instagram Direct messaging, or DM as it is known, allows you to connect with others via private messaging. You can find this option by clicking on the arrow graphic just below the image in this example on your Instagram account.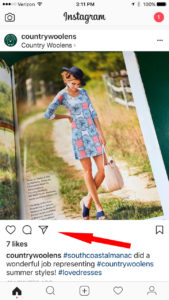 This option will allow you to send text and multimedia messages by displaying a message thread. You're limited to sending up to 15 followers messages at one time. You will have the ability to name the group.
This is a useful feature, all-be-it you are limited by the number of followers you can send to at once.
Before you begin thinking of the groups you might be able to set up with Instagram Direct, test this feature out. We expand upon this more below.
Let's move on and talk about some engagement ideas that you may find useful.
---
idea #1: Offer a promo code
Try sending a product image to your followers. In your message, share a promo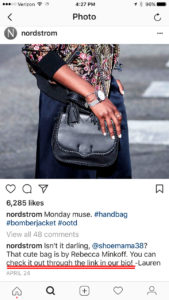 code. One of the limitations of Instagram as a social media tool is that it won't allow you to offer clickable posts. So send them as their own message. Or make use of the hot links in your profile. Nordstrom often posts on Instagram, it reminds users to click on the link in its profile (see image left), to learn more about the post's topic. And that link? It's a customized Bitly link. It's a workaround and you must update it on each of your promotions. You might consider adding a time limit to the promo to encourage your followers to take action.
idea # 2: Hold a contest right before your big sale
What if you offered a pair of movie tickets or a certificate to a local restaurant and all you had to do was to comment on a photo that was posted…would you?
Contests draw people, and they keep your followers engaged.
For example, you might offer a contest photo and announce that the first 15 people to comment will receive a DM on how to participate.
Many progressive marketers use this approach, GAP being one of them.
IDEA #3: try holding a q&a session
Use DM, and Instagram Direct to encourage conversations. This is a good use to determine if your followers have questions about your product or services.
As you begin a relationship with the most engaged followers, consider naming these groups based on the most frequent users or by-product or service names.
In other words, you might label a group as "most loyal followers" or "mountain bikers," etc.
All of these ideas would be benefit of working them into various groups. This drills down on your target audience, making your posts much more relevant. You might want to visit 4 Tips for a Successful Online Business a recent Slocum Studio blogpost.
idea #4: Have fun!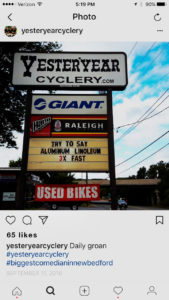 Yesteryear Cyclery posts a joke on his highway sign weekly. He then posts it to his Instagram feed. Should he forget, not to worry, his customers will call him out on it: "What is the joke of the week?"
Posting something fun, unique or quirky can be entertaining to your followers, even if they don't always click the like button.
---
Instagram tools for easy shopping and more
If you're thinking of selling a product or service on Instagram, take a look at these tools that will make it easier for customers to buy from you:
#1: Use Hashtags to identify shoppable content
If you're an Instagram user, chances are you're familiar with hashtags, and Inselly makes good use of them. Inselly lets you use the profile-link-to-storefront way of selling. It comes with the Inselly hashtag.
While hashtags were introduced on Twitter, they quickly became part of most social media channels you probably use. Currently, Instagram hashtag usage tends to be much greater than Twitter's because companies realize the success of their Instagram marketing depends on proper hash-tagging.
One of the ways people find content and contributors they like on Instagram is to search with hashtags.
You'll need to add the hashtag #inselly to your description and any other relevant tags that might place you in front of your target audience. Hashtags make it easier for users to search for buyable content. Still, it also flags your products or service as being buyable if users stumble across it on another social platform.
#2: Sell right from your comments
Soldsie allows Instagram users to drive followers directly to your e-commerce website to complete their purchases and drive revenue to your shopping page.
.  You do not have to leave the app. And a bonus? Soldsie works for Facebook, too!
Buyers and sellers must install and integrate the software with Instagram after registering with Soldsie, which uses "comment selling" to make sales.
Start by uploading your products through your selling dashboard.  This will action will turn the product images into shoppable Instagram posts. Then you add specific buying descriptions and product details, such as "100% wool, and it comes in green and white" on each Instagram product post.
Then ask your buyers to make purchases by commenting "sold" directly on the post. The user would include any necessary size/color/selection information at that point.
Once the buyer fills in his or her information, Soldsie will email them an invoice so you can collect it directly from PayPal or a credit card service.
Soldsie has several packages based on your store's needs. The basic plan costs $49 monthly, with a 5.9% commission fee on sales.
#3: Curate, Tag, Promote
E-Commerce integration, galleries on your website, product filtered feeds, scheduling, analytics, customize your galleries, and support. This is what you get for $20 per month.
Like2Have allows your Instagram users to shop your Instagram gallery, allowing them to view your product pages directly. First, you pick the Instagram photos you want in your gallery. Tag each photo with your store's products and showcase them on your website. Nothing to install, and it works on any device.
#4: Link photos from your Instagram account to products on your website
Take your Social media marketing to a new level with Like2Buy. You can link your photos from your Instagram account to your products for sale on your website. Your audience now has a way to take action on visual content that you're sharing on Instagram,
Once you link your Like2Buy into your bio section, followers can window-shop your products, services, and content. With a Like2Buy gallery, your fans can read your stories, shop your Instagram feed, or take any action you want.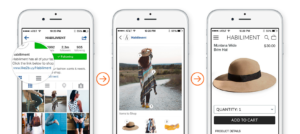 Since the tool incorporates the same photos on the Like2Buy page as on your Instagram account, followers don't feel they're leaving Instagram.
---
However, Like2Buy is not ideal if you want to start immediately. And it's expensive; using it costs between $1,000 to $2,000 a month.
Turning Instagram followers into buyers of your product or service
Selling tools have revolutionized Instagram's potential, increasing its value as a marketing platform. Regardless of which tool you choose to try, and there are many more of them, it's a good idea to publish a post letting your users know that your Instagram is now shoppable.
---
Stay connected
We're always hard at work putting out new content covering WordPress, marketing, and SEO news. Stay connected with us 100% spam FREE.