You already have the most influential marketing force at hand. No marketing program or campaign, organic or paid, can even come close to this force.
What are we talking about here? Your customers of course!
It amazes me when I think about it, for decades Amway (and many other multilevel marketing companies) have trained their newly recruited disciples to reach out to family, friends, and associates asking if they would like to partner in a new business adventure. You most likely have been approached by someone you know; it starts off with a line like this: I have an interesting proposal, a business opportunity, that I would like to include you in.
At first, it takes a while to understand what they're talking about but then bam, you think, I know where this is going! This is a Multilevel Marketing pitch!
Could you imagine asking your own customer base to do this?
Hmmm, what if you could get your customers to recommend your company's product or service like these Multilevel Marketing Companies ask their recruits to do? Wouldn't that be nice…
In this 3 minute read you will learn more about connecting with your customers and the methods to engage them to take action on your behalf.
Your customers are your most powerful resource, believable, persuasive and if you treat them right, your greatest champions. And guess what? No Multilevel Marketing pitch need be applied.
All this potential and it won't cost you a penny.
Now the question: How do I get my customers to talk about my business?
I've outlined a few ideas to help you achieve this including how to mobilize your most loyal advocates. Understand, it may take a little time to develop, but it's so worth it.
Social Engagement – what you need to understand
Know your audience
Scale your efforts
Follow this simple rule
Your audience, whether it be business entrepreneurs on LinkedIn, fashionistas on Pinterest, or event followers on Facebook, have a few common desires. Understanding what social networks your customers are using will help you reach more of them.
Here are a few fun facts:
Nearly 90% of Pinterest users buy a product they've pinned
Nearly 90% of Twitter users are on mobile devices
Instagram now outranks Twitter with over 300 million users
Nearly 1.4 billion people use Facebook
Facebook now exceeds YouTube in the number of video uploads
No matter which platform your customers are using, the principles are the same. We're social animals with wants and needs much like the following:
We liked to be valued and acknowledged
We like to connect with others that have similar interests- like minded
We like to be noticed and rewarded
Many companies forget the social aspect of social media, don't be one them.
Principle number 1. We like to be valued and acknowledged.
On a recent visit to Seattle to see my son, I tweeted the hotel I was staying at and mentioned that I was looking for a cafe in the area to go to for coffee. Instead of the hotel making a suggestion, they messaged back to me that they appreciated my staying there and asked if I would recommend their hotel.
What they should have suggested was a place for me to go for coffee and then asked how I liked the hotel. This is the point of number one, a bit of community outreach and understanding can go a long way before asking for recommendations.
Think about it for a minute. When customers use their social networks to promote your business, their sphere of influence automatically becomes yours. They become your content writers, product and service users, and most importantly your advocates.
They will be using their online assets to drive brand awareness, distribute your content, and enhance your overall marketing efforts.
Speaking of advocates here are a few tips to engage them:
Encourage them to write reviews of your products or services.
Give personal testimonies of their experience with your business.
Give your best advocates early bird exclusive access to certain offers.
Educate customers on your product offers, brand messaging and the companies mission. By doing this they can represent your business when the time comes.
Encourage customers to produce and publish their own content on your behalf.
It's a great idea to tap into your customers' influence, but you need to stay engaged and communicate. Don't miss the opportunity to communicate like in the above example of the hotel.
Great brands reach out and communicate with their fans.
Principle number 2. We like to connect with others that have similar interests.
Even if Millennials aren't your target audience you might gain some insight as to how this generation is embracing the social sphere. The image below comes from an article written by Nora Barnes, at the Center for Marketing Research University of Massachusetts Dartmouth.  Your audience wants to communicate with like minded people.
It's also interesting to note that when asking Facebook users why they like a company/brand, many responded saying they support the brands they like, to receive regular updates from brands or get a coupon or discount on their next purchase.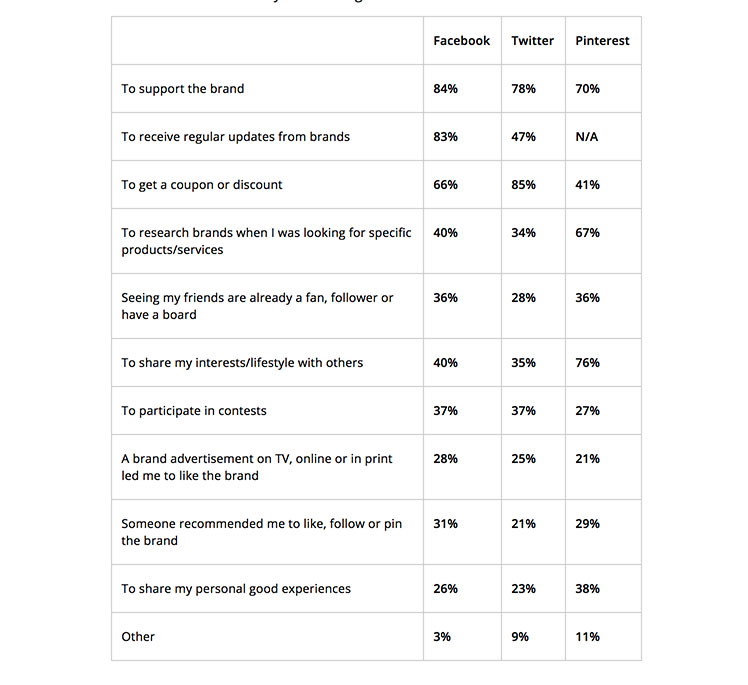 There are some interesting differences here. This group wants to support their favorite brands and hear from them as well. And they also want to share their lifestyle with others (particularly on Pinterest). And did you notice the 3rd item on the list? Discounts and coupons!
So, how can you build a lifestyle around a product? Get your customers actively involved. Maybe by asking them what product you should carry in a particular line or segment.
Stay connected
We're always hard at work putting out new content covering WordPress, marketing, and SEO news. Stay connected with us 100% spam FREE.
Principle number 3. We like to be noticed and rewarded.
People like to be noticed and rewarded. As profiled in Social Media Examiner,  Dunkin Donuts held a contest, asking how  Dunkin Donuts fit into their follower's everyday lives.
The winners were chosen to be placed in print ads and marketing campaigns, in addition, they were shared on YouTube and other social networks where more entries were asked to do the same. This is ultimate social proof through creative social media engagement.
You might ask your customers how your products fit into your their lifestyles. Maybe you own a Bread & Breakfast, Travel Agency, Chiropractic location, or a Retail location, it really doesn't matter that much. Just ask and wait for the reply.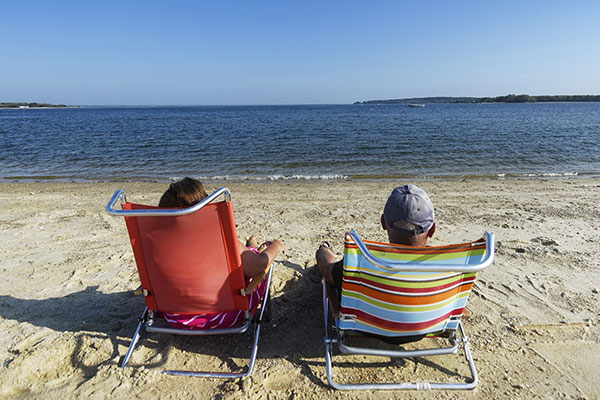 ---
Customers today have many more choices, more information, and more power than ever before. This means that companies have little choice but to provide more value at every step of the customer's journey. However, if you do just these few things that I've mentioned above you'll go far to increase the locality that your customer has in your business.
And we all know that a repeat customer is 50 % easier to sell than a new customer. The opinions of your customers posted online carry a great amount of weight with your new prospects. It's a fact that 90% of people trust brand recommendations from friends, and 70% rely on consumer opinions.
There's no doubt about it, your customers are your greatest allies. If you give them great products or services with top notch follow up, your job will be a lot easier. Just provide them with a great user experience and they'll return the favor.