ESG Navigator WordPress Development
See how we've helped to build and maintain this innovative platform focused on the Environmental, Social, and Governance aspects of Fortune 500 companies. ESG Navigator is the premier global platform to help companies capture value from ESG.
company ratings
(up from ~25 in 2018)
In 1997 Gib Hedstrom developed a scorecard that helped Fortune 500 board members navigate sustainability. Originally named The Sustainability Scorecard, ESG Navigator is a corporate sustainability assessment and strategic planning platform designed for boardrooms.
ESG Navigator provides rating tools for C-Suite executives to create a future-ready strategy for their businesses. Analytics tools present comparisons with other companies in the global, industry sector, and sub-sector scopes.
Why ESG Navigator Chose Us for their WordPress Development
In early 2018 Gib was in search of a new development team to help manage and grow his platform. Gib was looking for a team with expertise the areas of:
custom WordPress development (PHP/SQL),
front-end JavaScript frameworks,
and UI/UX (User Interface/User Experience).
Our team has years of WordPress experience. We've helped hundreds of companies start and maintain their online ventures since 2007. There was no doubt that Slocum Studio would be the right team.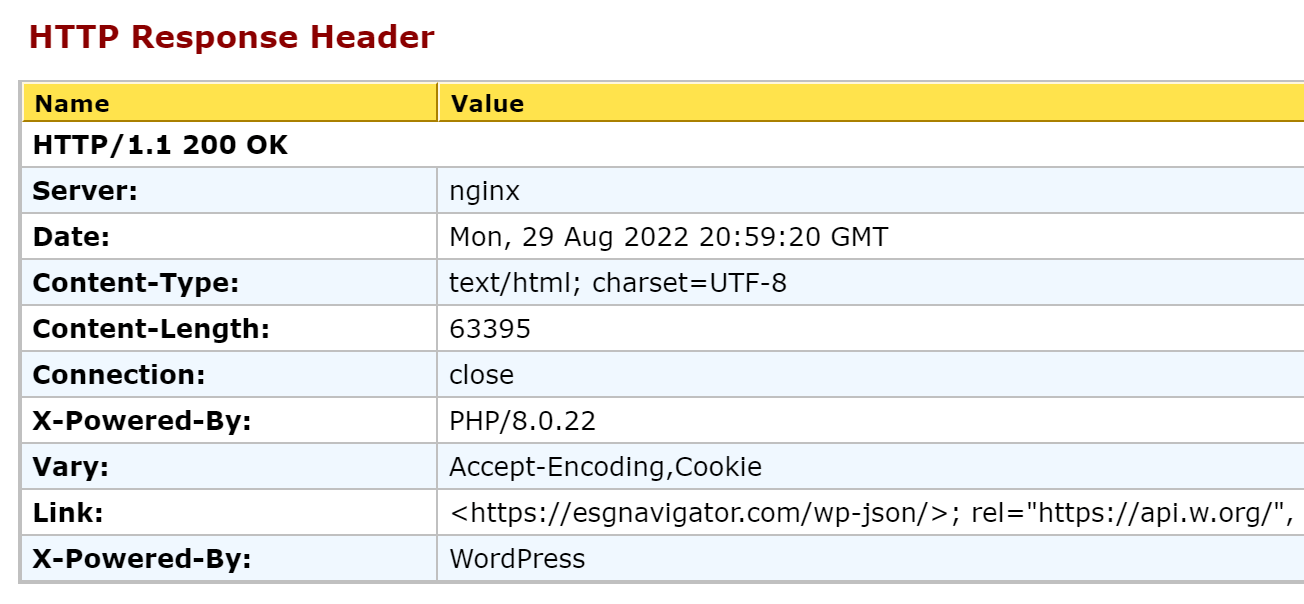 First Up, A Security Audit
Security is something we take very seriously. We performed a deep-dive security evaluation at the start of this project. This evaluation revealed various security flaws which we promptly fixed. ESG Navigator was now safer and more secure than ever. We were ready to move on to platform enhancements.
At this point, the ESG Navigator platform could collect company rating data. However, there wasn't a way for the companies to visualize their data and compare against other company ratings.
With Gib's guidance, we developed a comprehensive analysis feature that allows companies to view and compare data across their industry and against various data metrics.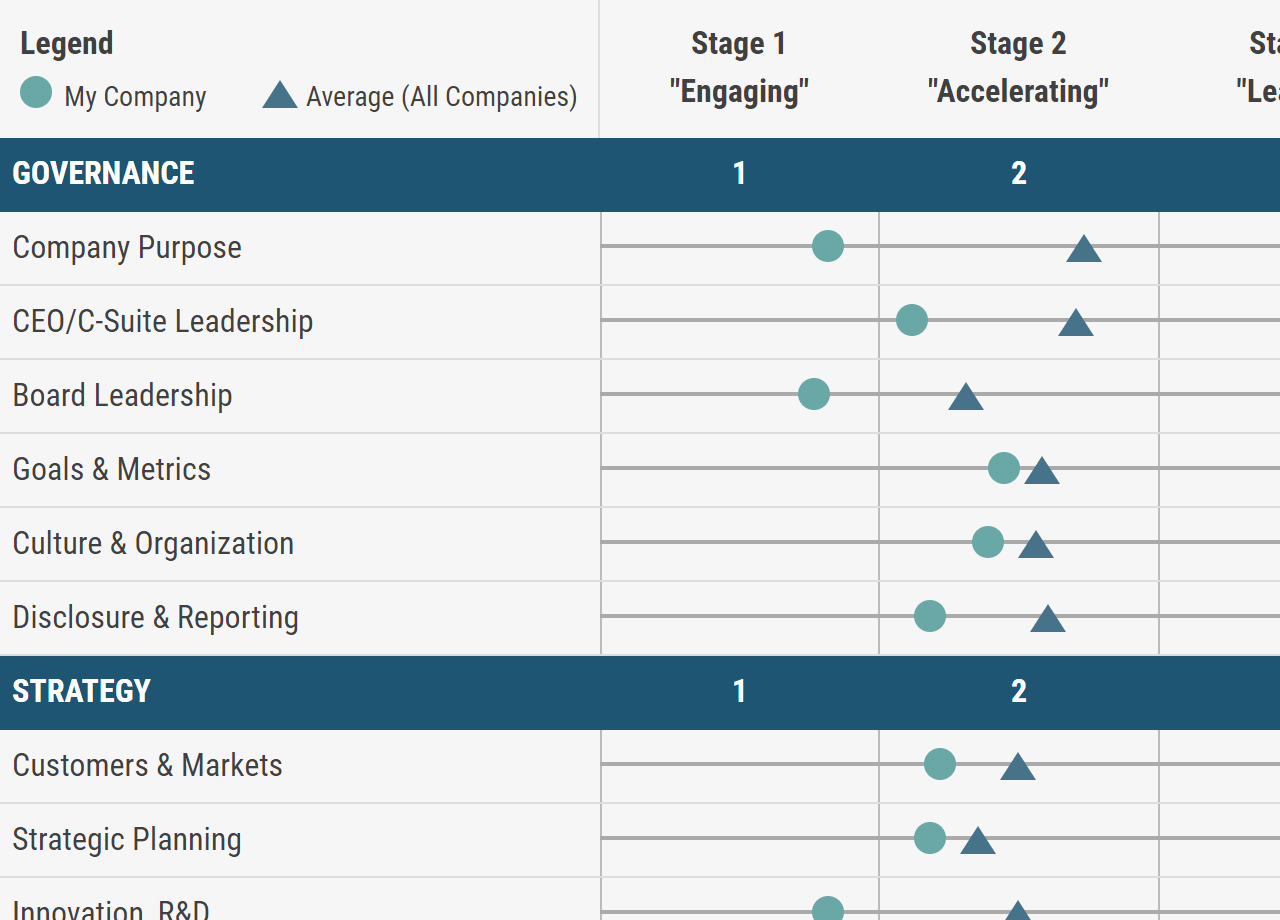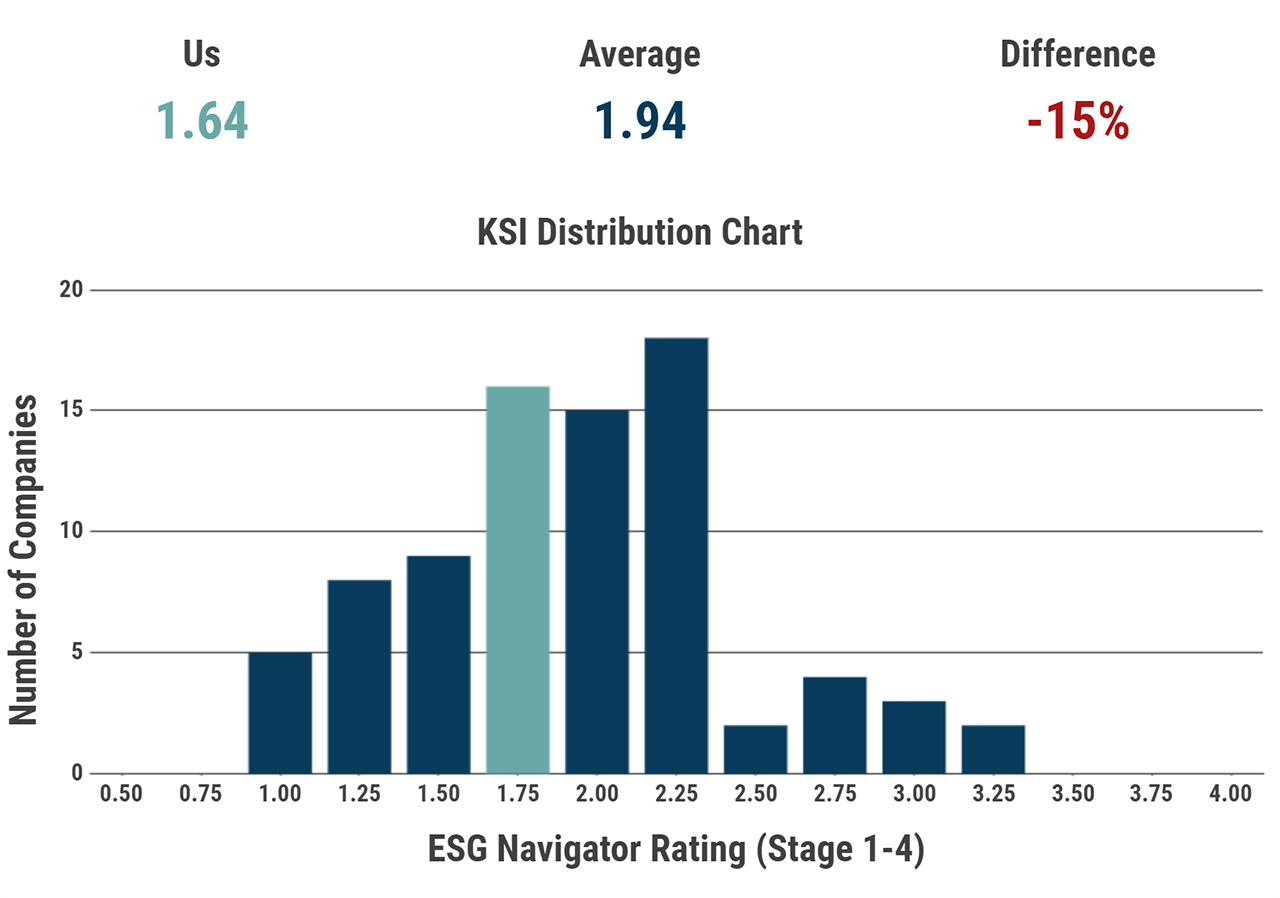 Using the bar chart analysis, companies can compare their averages against other company ratings within a bar graph. Companies can view analysis across their overall ratings, section ratings, element ratings, and individual KSIs (Key Sustainability Indicator, a rating metric).
These ratings comprise the different buckets of sustainability - Environmental, Social, Governance, and Strategy.
The rainbow chart analysis provides a unique visual perspective of individual company data. Ratings are color coordinated across different buckets. This type of analysis helps companies keep track of their improvement areas. Highly Relevant (i.e. the most important) ratings are highlighted for easier analysis.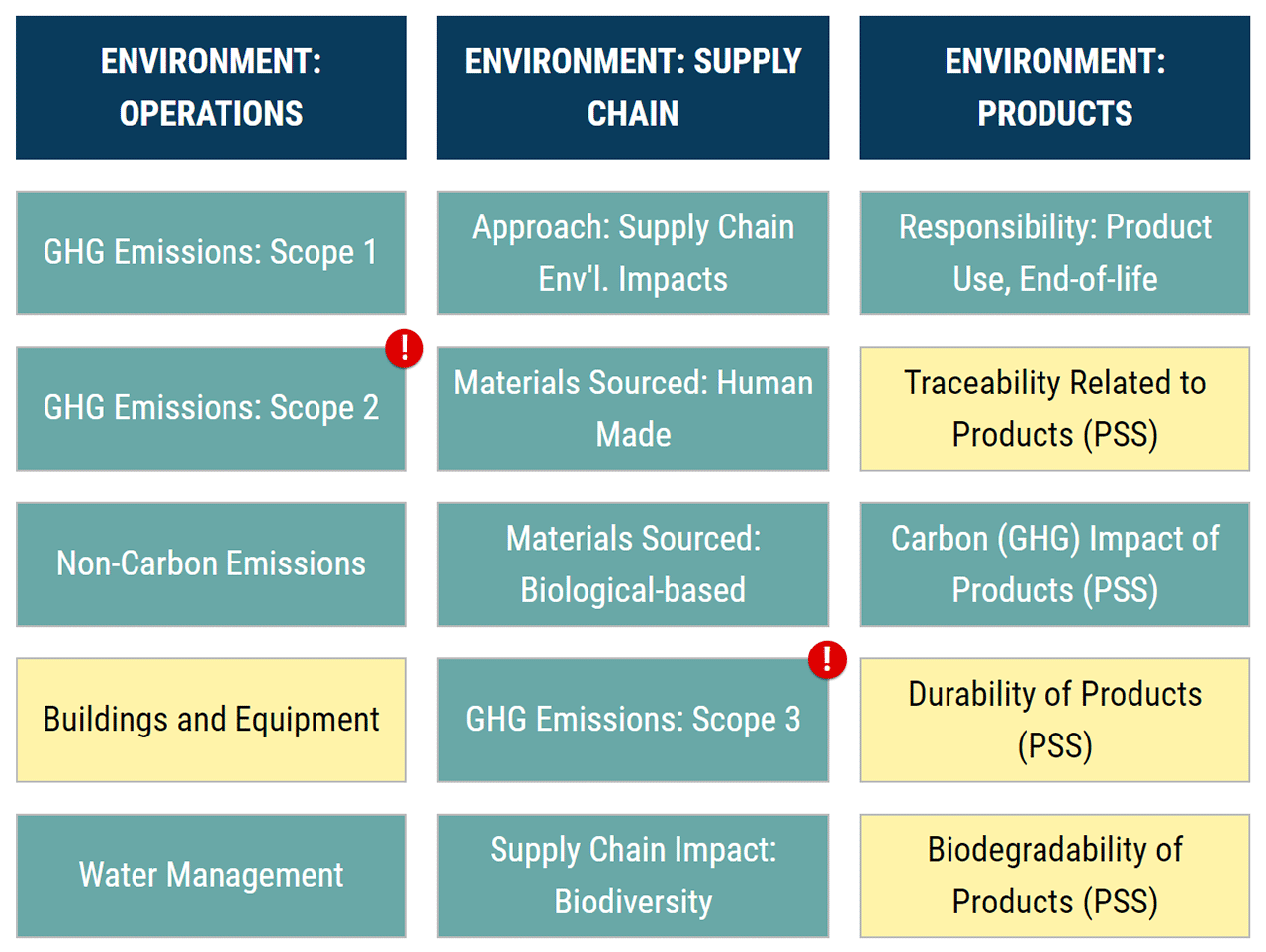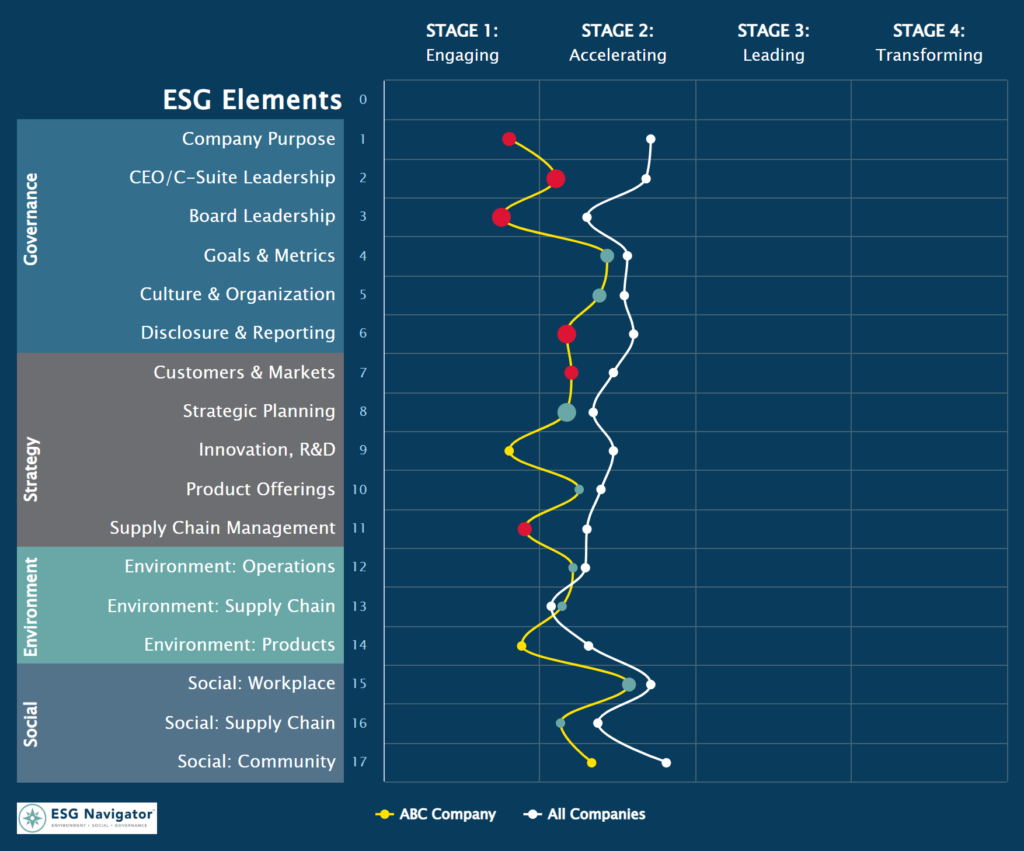 The snake chart analysis is another unique visual representation of individual company data. Data is displayed in a vertical line chart with colors representing different Element ratings.
Each of the ratings has a size and a color. The size is determined by the number of ratings marked as Highly Relevant. The position of the rating determines the color as compared to all company ratings. Large green ratings are better while large red ratings indicate areas for improvement.
What good is analysis without the ability to present it to your stakeholders? We've built a feature to save the analysis charts in various formats including one specifically for boardroom PowerPoint presentations.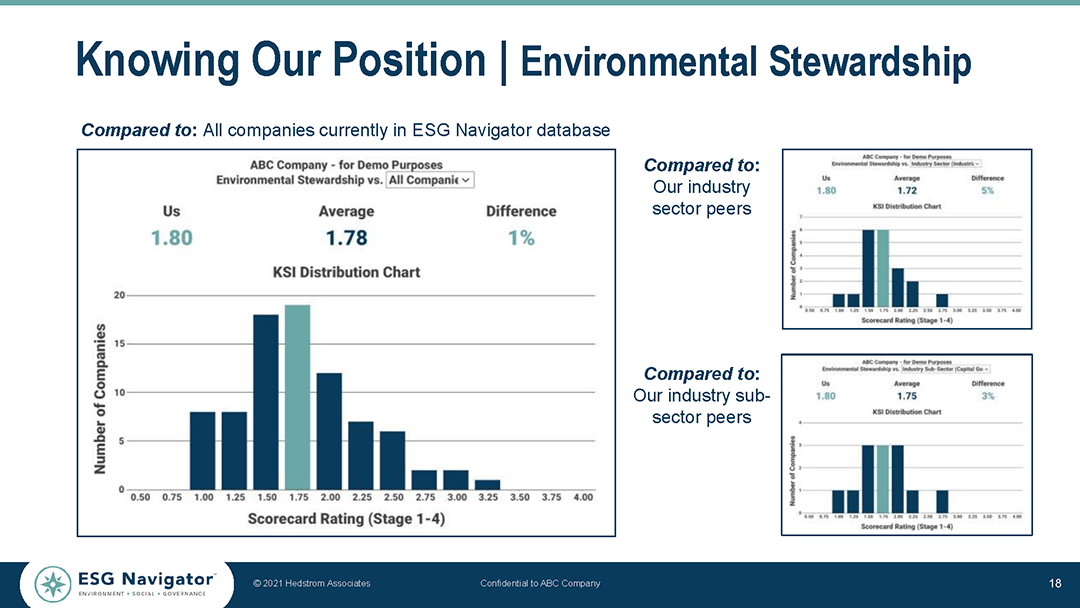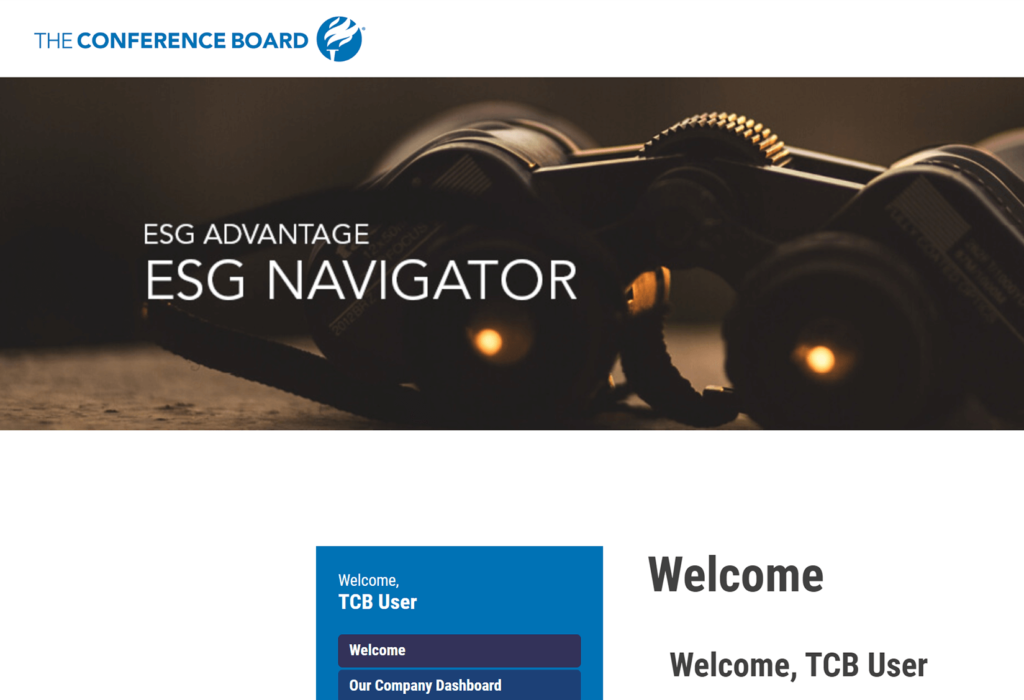 An Integration with The Conference Board
In 2020, ESG Navigator officially partnered with The Conference Board. The Conference Board is a global, independent business membership and research association working in the public interest. This partnership expanded the reach of ESG Navigator tremendously.
The technology behind this integration includes a WordPress REST API endpoint with custom authentication and specific branding for The Conference Board accounts.
ESG Navigator is now poised to reach more companies across the globe. Since coming on board with Slocum Studio, annual membership and subscriptions have consistently increased year-over-year.
We are grateful to Gib for choosing us to help lead the WordPress development on his platform. We're looking forward to continuing our partnership long into the future. Gib's leadership and guidance is imperative to the success of ESG Navigator and we think it truly shows!

Looking for similar results with your project?
We can help you succeed in your online ventures. We'll study your goals and create a plan with solutions to effectively meet and exceed them!