Greetings WordPressers!
So much has happened in the world of WordPress over the past week.
We had tons of announcements from this year's WordCamp San Francisco 2012 and from Matt Mullenweg's yearly State of the Word.  There were many new reveals of what to come in the WordPress community.
Speaking of WordPress community, we also got an inside look at a new community feature called WordPress.org Notifications.
Rounding out this week's events is the addition of some new apps to make WordPress really scream.
Read on and fill your brain with awesome!
WordCamp San Francisco 2012 and State of the Word
As is true every year, WordCamp San Francisco happened and was the place to be for announcements from the bigwigs at Automattic.  For a more detailed look at WordCamp San Francisco, you may want to read our full story.
What we really wanted to highlight in this WeekPress were the major announcements made at State of the Word.  Here are some of the bullets:
December 5th Release for WordPress 3.5
Twenty Twelve Theme to launch
Full Retina and HiDPI support coming
Media Browser changes
WordPress.org Notifications
Matt went on to display some of these new features, including…
Media Browser Changes
The media browser, which was already updated rather recently to allow users to drag and drop media files from a computer, will be getting another major overall soon.
This time, the media browser is designed to function even more like a typical drag and drop scenario.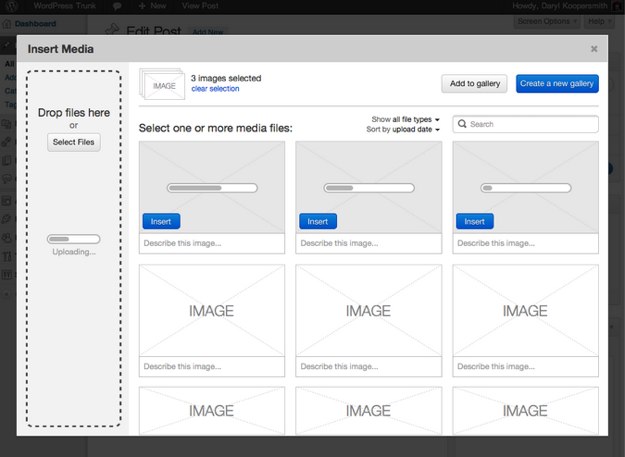 The drag box itself has been reduced in size and sits on the left side of the upload screen.  Once uploaded, photos are all displayed in smaller thumbnails on the page, with real time scrolling, editing, and loading.
It's important to note that the edit section of the media has been made simpler and crisper than it currently is, with commands and options everywhere.
This is an evolutionary yet very necessary and awesome step in the right direction for media uploading in WordPress.
Thank you to WPMU.org for providing the picture of the Media Browser in action!
WordPress.org Notifications
Every week, it seems we are graced with another initiative by the WordPress core team to enhance the user and contributor experience.  This week was no different.
At the State of the Word, Matt announced WordPress.org Notifications, which enables users to be more connected with each other than ever before.
Notifications takes a page from Twitter, and notifies the WordPress user is mentioned (with the "@" tag) on any forum within the WordPress hierarchy.  Upon being mentioned, the user receives an email telling them that they were mentioned.
Currently, this feature is working on all base WordPress forums and across all the make.wordpress sites as well.
This year's WordCamp San Francisco had a lot in store for all different WordPress users.  It was a good showing from the WordPress gurus.
TinyPNG
From thinking about the larger picture of WordPress, it is now time to think about the smaller picture.  Or, at the very least, the smaller picture size.
Tiny PNG is an app, produced by Voormedia that allows the user to take an image and make it a much smaller file size, without ruining the quality of the image!
It changes a 24 bit PNG file to an 8 bit file with no loss of quality.  Best of all, it can all be done right from the homepage of their website.
Here is an example posted from their website:
TinyPNG is great because, when practiced, smaller images on websites will load faster, eliminating much of the loading tedium attributed by picture files.  For those of us who want to consolidate our websites and get them to run as fast as possible, TinyPNG is a welcome addition to any WordPress website.
Thank you to Jesse Friedman for the find.  This is a great app!
WordPress iOS App, Updated
Scrolling sidebars have become such a trend lately.  Across mobile devices (especially tablets), it is common to swipe from the left side of the screen to pull in a sidebar with a main menu-like function.
I'd wager to say it is becoming so common, I personally perform the swipe gesture with every app I download, expecting the sidebar to magically appear.
Well, WordPress has officially joined the sidebar camp with its 3.1 update of the popular WordPress iOS app.  The user can now officially use a scrolling sidebar to navigate the feature-set of the powerful app.
Additionally, multiple panels, for viewing lots of content at once, and editable post types (depending on what your site and the app allow) have also been added to the update.
The iOS app is better than ever, check it out if you have an iPad and haven't already!
State of the Week
We are proud to provide you with tons of content every week.  We hope that you enjoy reading our posts.
If you like what you see, check out a recent video series that we have just introduced where we review plugins, themes, and apps.  The show is called PressThis PressThat and we are very proud of the finished product.
If you would like your plugin or app posted in WeekPress, tell us about it down below!
If you want to receive your weekly dose of WordPress, we can get it to ya! Just sign up below and you shall receive!