This is a follow-up post to "We're Going To Jail And Need Your Help!".
Wow! What an experience. I'm honored to have had the opportunity to participate in the 2012 New Bedford Metro Lock Up. Altogether the Southcoast area raised $33,725 for the Muscular Dystrophy Association! That amount of money is enough to send roughly 40 children to MDA Summer Camps! Congratulations to the MDA, and a big "thank you" to all of the participants and donors.
Here's how it went down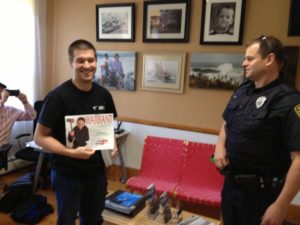 I was arrested at Slocum Studio by Officer Smith of the Dartmouth Massachusetts Police Department and taken down to his cruiser. This was the first time I had ever been in the back of a police car, and let me tell you, it was all but comfortable. The seats were plastic, there was no legroom, and once you were inside, you were stuck (until they opened the door). Officer Smith was a great guy. We chatted about various happenings on the way to the MDA Lock-Up.
The Event
Once I arrived, I was immediately greeted by friendly MDA staff members. I also had my mugshot taken (see the featured image on this post). We were then led to our jail cell, which was just a section of the restaurant, and instructed to raise more bail money. Up until this point, we had raised a total of $230. I was able to contact a few friends and co-workers, and by the end of the event, we had raised $300 with a $50 pledge bringing our total to $350! We'd like to thank everyone that donated through Slocum Design Studio and all other participants!
The food was provided by Texas Roadhouse (go figure), and the entire MDA staff was very helpful and friendly. They were so generous that they let me speak about Slocum Studio and our New Bedford Travel Guide in front of everybody. If you're not sure what the New Bedford Travel Guide is, it's a guide put out by Slocum Studio for the New Bedford area and surrounding towns featuring events, local attractions, and much more. Check out the website for more information. You can also find a print copy of the New Bedford Travel Guide in and around the New Bedford area.
We still could use your help
After the event, all of the 2012 New Bedford Metro Lock Up MDA participants received an e-mail from the Muscular Dystrophy Association thanking us for participating. They informed us that together we raised $33,725 in total.
We can't thank you enough for your participation in yesterday's New Bedford Metro Area Lock Up.You helped us to raise $33,725! Abby went to MDA Summer Camp for the very first time this past August. She spent an entire year looking forward to going rock climbing at camp and caring people like you helped her to do it! Abby thanks all of you for helping to send her to MDA's summer camp again next summer. We truly appreciate your efforts. We did, however, fall just short of our goal of $35,000. If you would like to help us reach our goal, please consider sending out another email, letting your contacts know that they can still contribute to your bail online through December 15th. Again, thank you for all you did you make the New Bedford Metro Area Lock Up a great success!
The MDA's goal for the 2012 New Bedford Metro Lock Up was $35,000, and they fell just short of that. If you'd still like to donate, you can visit our donation page to donate online.