At Slocum Studio we've been WordPress Web Designers in Fall River for years, providing quality websites to our Fall River area clients all while giving back to the WordPress community in which we are rooted. Our team has free themes and plugins in the WordPress repository, and our PressThis YouTube series compares plugins and themes so that new WordPress developers have a place to go for advice.
We decided that it was time for a change in focus and philosophy and begin assisting others, small business, organizations etc.
Slocum Studio has become the best WordPress development studio in the Fall River area to meet any need and budget that you have in mind.
WordPress Website that make money
After moving our WordPress themes to a separate channel, we decided it was time to prioritize the message of the increased ROI clients get from using our services. Customers who are serious about increasing their brand's value and profits come to Slocum Studio. We work with clients in the Fall River area.
We develop WordPress websites and solutions that allow the clients to easily update content as they see fit, this ease of use also offers their clients a direct path to the "Buy Now" button.
Slocu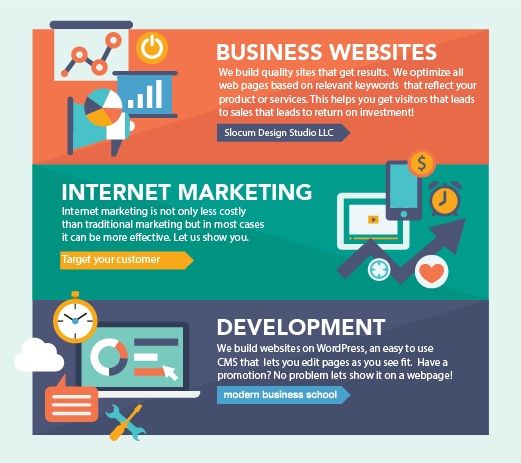 m Studio focuses on solving the needs of it's customer this is the ultimate goal. We work with businesses directly and also with design agencies to build WordPress solutions for any web problem.
The new Slocum Studio is all about the results. We have a solution for any brand or technical solution to a problem. We have built WordPress websites with eCommerce, Membership, Custom Fields, Food menus, payment integration, database functionality, and much more.
WordPress Web Designers in Fall River
The current focus of Slocum Studio is WordPress website support, offering support packages on a monthly basis. Once a website is launched, companies that are truly looking to make money continue to work with us in supporting their website. This includes marketing and development consulting and tech support. 
We also introduce WordPress support to businesses that did not previously develop with us. Companies like Wheaton College trust Slocum Studio to go in and fix their websites, which were previously built by other parties, agencies, and firms.
WordPress SEO, Support, and Hosting
With our extensive knowledge of SEO and SEM, we also provide hosting and consulting services to meet the needs of our clients.
We optimize websites to gain traffic and know where to place call-to-actions to ensure that people will be calling, emailing, and interacting with your business.

We also host our client websites on secure servers with our own websites and firewalls to protect against attacks with technology in place to help your site rank on Google. SEO isn't all about keywords! There are plenty of elements of SEO that are about technical performance of your site. We help with that.
In the event that we are not the right fit for hosting, we have developed partnerships with many hosting companies to ensure that your site is on the right platform.