Search Engine Optimization (SEO) is forever changing in the global space. We hope the 5 SEO tips and tools to elevate your local business will help you better organize your local marketing plans.
The online space is crowded, you need to get much more right than wrong with your marketing efforts.
Writing super-strong blog posts, or heavily contented service or product pages while good won't matter if they are not found. Same for your business especially a local business. Here is an article that will help. Blogging and SEO
We talk more about blogging below.
You might think that SEO and content marketing are super competitive. You would be right.
But you also might not realize that optimizing your website is more attainable for a local business than an international one. There are tools and tips out there to maximize a website for the smaller target you are trying to reach. Read to find out more! You might also be interested in marketing 6 tips and strategies .
1. Choose the right domain
Choosing a good domain name should be the first major step in getting your brand out there.
While it may take some time there are a few essentials to keep in mind if possible.
Try to use a .com as opposed to .net, or .us etc.
Use a keyword in your domain if possible.
Keep away from hyphens
Do some research before choosing the name
Make it easy to spell and pronounce
Keep it as short as possible.
For example, our studio is named Slocum Studio, so the choice was obvious. Our domain: https://slocumstudio.com/ When the business has a creative name, using that or a similar variant to it is recommended. If Slocum Studio was already taken, we may have added a "ma" after "studio" to designate that we are from Massachusetts.
2. Personal brand local SEO
If the business is a personal brand, you may want to get more in-depth with your research.
Make this name as local as possible.
3. Where is your local business located?
The above is an indicator that keeping the location close to the heart of a website is crucial to local business success.
Tying your brand to the area in which it is located helps Google identify your company on Google maps, it's also helpful in your local directories.
If I sell pizza sauce locally in Baltimore, I would want to type information that says things like: "best pizza sauce in Baltimore" or "Baltimore pizza sauce" as often as possible. Google notices the relationship between pizza sauce and Baltimore on your website and will rank it higher when a person searches for something containing pizza sauce and Baltimore.
We talk more about specific keywords in our article on long-tail keywords.
Utilize this tip on landing pages like "About" or "Contact" pages as much as you will on blog posts.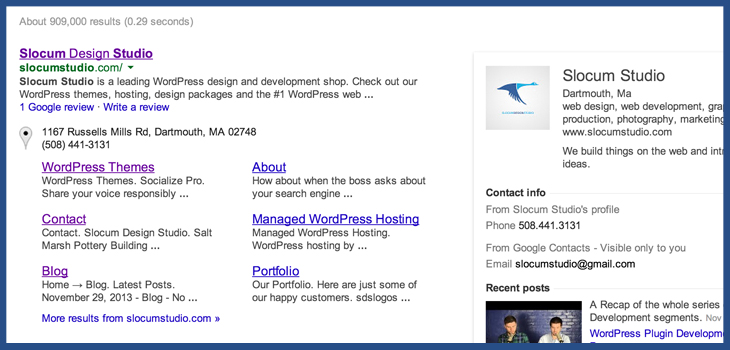 4. Blog
What you don't blog about? It's probably a good time to start.
Blogging is a great way to increase traffic to your website, and it also offers more value to your website than a simple landing page. Blogging is the pulse of your website– the heartbeat if you will.
Websites that simply have product and store information are fine to the point that they provide necessary information to somebody searching on a device. But that is where the buck stops.
Adding blog posts does two things. It increases overall traffic, which makes it hit higher on Google's search engine results page. It also helps to gain notoriety among your peers. But more importantly credibility with your base.
Be smart when you blog post. We are a web design company that posts blogs about search engine optimization because that is part of what we sell to our clients.
If you are a local business, you might want to make blog posts about community events you attended or happenings in that community and bring them back to the values and mission statement of the company.
5. Contact information
This is one of those tips that is so obvious to a web marketer, yet so many smaller or more local businesses fail to practice it.
Situation:  Let's say I visit your website, read your blog, and really enjoy your product or services. Then I decide that I want to purchase your product or service.
How do I get there?
What time are you open?
I have a question about stock, how do I reach you?
If you have a physical address, or not you can get a GMB Google my Business listing. Google will verify your address by sending you a postcard or a call.
Far too often, these questions go unanswered, because your local business has failed to get listed.
Create a contact page and add elements like Google contact information to the page.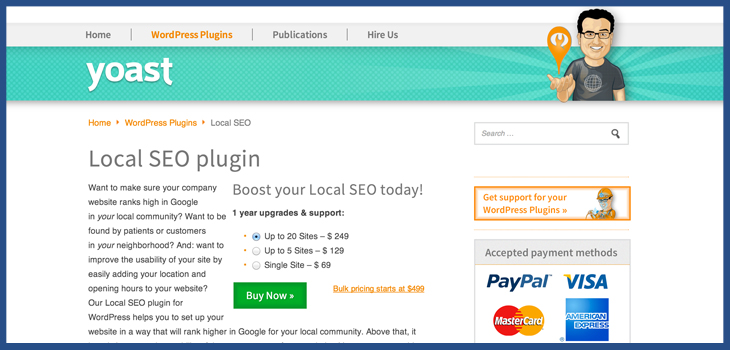 Local SEO by Yoast plugin
An easy way to do that is to create a WordPress website with plugins to do the work for you. With no prior knowledge of code (though you may need the website coded first) you can go into your website and change information about your website.
The tool is Local SEO by Yoast. While this can be uploaded for you by a studio like ourselves, once the plugin is active on the website, you can fill in details like:
Store Locator
Store Hours
Store Directions
The WordPress plugin takes information that you enter and changes it to more technical information like code, metadata, and schema. These elements also help people who are searching for your business.
What is Schema?
Schema are physical characteristics of an entity (in this case a small business) that display helpful information to users searching on Google, Bing, or Yahoo!
Things like location, members of the organization, store hours, and more are converted into this schema code using tools like the Local SEO by Yoast plugin and index your website so that someone can easily see when your store is open or various other information that they would want when searching.
They are becoming integral to the success of any local business. If I am in a city and search for a restaurant online, I am going to go to the ones that show up with the most detail using these criteria.
Video
This is the video version of the above article from our popular SEO Lunch series on YouTube.
If you like what you see and want to be privy to updates as they come out, please do subscribe to us to receive exclusive offers!
Want us to do some custom work for you and your business? We would love to!
Image by squarefrog from Pixabay