Do you have a job opportunity available that you need to fill? If so, you should consider creating a user-friendly website with a simple-to-navigate platform for sending a resume and forms. In this post, Job Seekers: A Guide to Making It Simple to Send a Resume, I explain how.
Are you looking for the best way to find qualified candidates? If so, a poorly designed website creates a frustrating environment for job seekers.
If they find navigating your website and submitting their resume a pain, a job seeker will quickly opt to look elsewhere for employment. Staffing agencies must create a simple process for job seekers to submit resumes.
This blog post will guide staffing agencies to create a website and draw job seekers and potential employers to your agency. After all, that's the goal. So let's get started!
Have a Job Plan in Place
Before you start, make a plan. Know your priorities and focus on the order in which you hope to see results over time. There is a lot to do, so spend time preparing your plan.
I cannot emphasize this enough; many clients come in without a plan. And when I tell them what they're going to need, they often find themselves overwhelmed. Don't be one of them!
"Plan for what it is difficult while it is easy, do what is great while it is small."

― Sun Tzu, The Art of War
Job seekers a guide
Your website should be clean, visually appealing, and easy to navigate. The job seeker should be able to quickly and easily find the information they are looking for without feeling overwhelmed.
Simple Layout
Your website's layout plays a crucial role in how easily job seekers can find information about your staffing agency, employment opportunities, and the submission form for submitting their applications and resumes. Good layout options for a job seeker-friendly website include: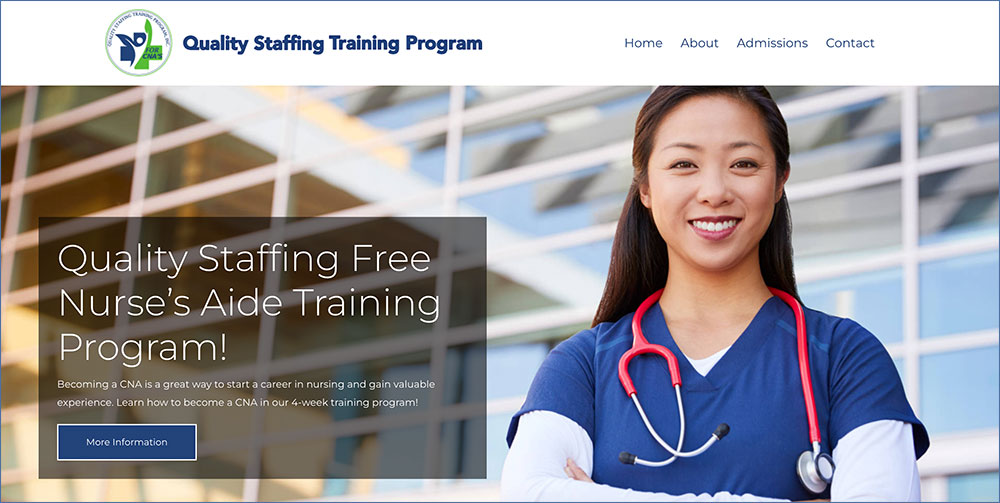 Crisp and Readable Font

Use appropriately formatted text to create a website that is easy to read. The job seeker should be able to quickly scan your website and find the information they need without feeling overwhelmed.
Using a sans serif font in the appropriate font size makes the text easy for the eyes to read the content on your page.
Plenty of White Space

A great website has plenty of white space. White space is the area of your web page that doesn't contain any text or images. It sounds counterintuitive, but adding white space to your web page can make the information on your page easier to read and digest.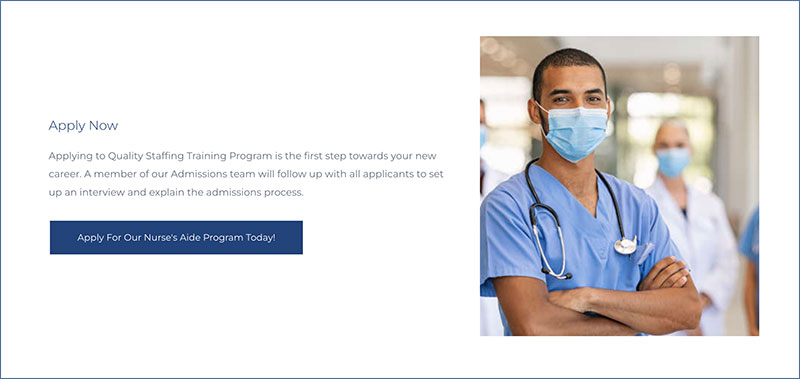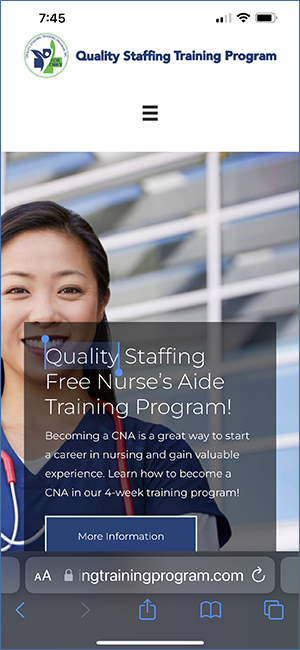 Mobile Friendly
Your website should be mobile-friendly and responsive. In other words, it should look good and be easy to use on all devices, from desktop computers to tablets to smartphones. People are using their mobile devices to search for jobs more often these days, so your website must be accessible from any device.
Include an Application Form

Having a spot on your website to send forms and resume files is vital. This area can be in the form of an application submission form or other forms to gather candidate information.
Submission form input boxes should be simple and clearly labeled. Make it easy to submit resumes by designating an area on the form for job seekers to drop a resume file or upload it from their device.
Looking to grow your brand online?
Create Compelling Content

Your website should contain compelling content that speaks to the needs of job seekers. The content on your website should be accurate, informative, and high-quality. Job seekers should be able to quickly find the information they need without searching through long paragraphs of text.
A few topics you may decide to cover on your website include:
The benefits of working with your staffing agency
The types of job seekers and employers you work with
How to submit a resume or a job opportunity
Remember that compelling content appeals to job seekers and potential employers looking to place positions with your agency.
Use Storytelling to Create Great Content
Job seekers and potential employers want to know that your agency is the right fit for them. Using storytelling in your content is a great way to show your agency is the perfect match. Your website should tell your agency's story, and job seekers should feel like they are part of that story.
Some popular elements of storytelling that you can use on your website include:
Personal testimonials from job seekers
Case studies
Images and videos
When job seekers feel connected to your agency, they are more likely to use your staffing agency as a source for potential employment opportunities.
SEO Content

Not only should your content be compelling, but it should also be rich in SEO (search engine optimization). This means that your content should contain the keywords and phrases job seekers use when searching for employment agencies.
Adding relevant keywords and phrases to content can help job seekers easily find your website. You can also help potential employers find your agency when they are searching for staffing agencies to place job openings.
Sprinkling relevant keywords and phrases throughout your content also help to improve your website's ranking on search engine results pages (SERPs). When individuals perform a search for employment agencies using keywords, it increases the chance they'll discover your website.
News/Blog Page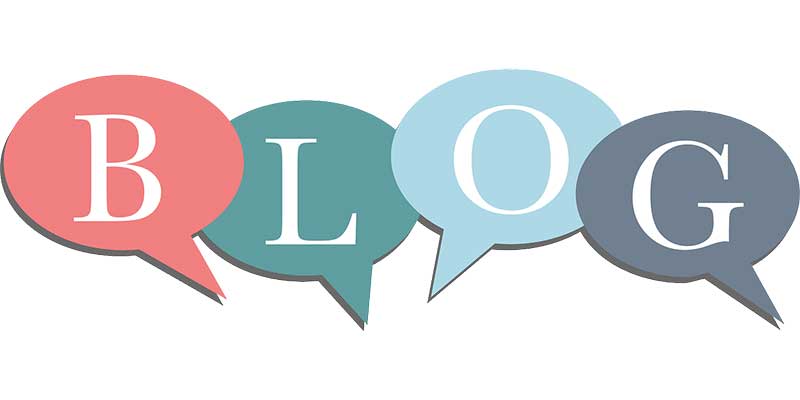 Blogging, to me, is an essential component of a website. It's the heartbeat of the site and makes it active. Yet, it is often a tough sell to clients as they find starting and maintaining it challenging.
Did you know that those small businesses which regularly post to a blog on their website receive 126% more leads than small businesses that don't? You need to have a news page or blog on your website.
If you're not blogging regularly, now is the time to start. A blog is a great way to show job seekers that your agency is up-to-date on the latest industry news and trends. It's also a valuable tool for adding SEO to your website. Be sure to include keywords in your blog posts.
Some topics that you may want to blog about include:
The job market in your area
Industry news and trends
Tips for job seekers
Tips for employers
Compelling 'About Us' Page

Your website's 'About Us' page is one of the most important pages on your site. It is where job seekers and employers will go to learn more about your agency and what you can do for them.
Your 'About Us' page should be well-written, accurate, and informative. Include a brief overview of your agency's history, services, and mission. You may also want to publish testimonials from satisfied clients and job seekers.
Including videos on your 'About Us' page is also a great way to engage job seekers and employers. A short video allows you to introduce your staff and give job seekers and employers a behind-the-scenes look at your agency.
Looking to grow your brand online?
Easy Resume Submission
Consider using an online resume submission system to make it easy for job seekers to submit their applications and resumes. There are several benefits of using an online resume submission system, including:
Reduced Paperwork: An online resume submission system eliminates the need for job seekers to fill out paper forms
Increased Efficiency: An online resume submission system allows job seekers to submit their resumes in a matter of minutes
Improved Accuracy: By submitting their resumes online, job seekers can be sure that their information will be entered into your system correctly
Increased exposure: An online resume submission system allows job seekers to submit their resumes to multiple staffing agencies with the click of a button
Online resume systems allow job seekers to easily submit a resume with minimal effort. Using software built specifically for resume submission can save you a lot of time.
Integrate Good Job Posting Software

If job seekers can't find your job postings, they won't apply. It's essential to have a system in place that allows job seekers to search and apply for job openings easily.
Many job posting software programs are available that can help you post job openings to your website, job boards, and social media sites. Some of the features that you may want to look for in a job posting software program include:
The ability to post job openings to multiple job boards with one click
The ability to post job openings to your website and social media sites
The ability to track job seeker applications
The ability to create custom job application forms
Using an online job posting software program, you cannot only post jobs on your website, but you can also send job seekers a notification when a new position becomes available.
Help Job Seekers to Find Your Website

If job seekers can't find your website, they can't apply for job openings. Likewise, if employers can't find your website, you'll have no jobs to post for job hunters. There are additional ways to make your website more visible to job hunters and employers.
Job Boards

Promote your website on job boards. Some popular job board sites include Indeed, Monster, and CareerBuilder. Job boards are a great resource to get your website noticed in the job market.
Robust Social Media Presence

Create a powerful social media presence by including links to your website on your social media profiles. Use social media platforms to promote job openings and share blog posts and articles that job seekers may find helpful.
Pay-Per-Click Advertising

Pay-per-click advertising can help direct job seekers and potential clients to your website. Pay-per-click ads are a great way to get job seekers who are actively searching for job openings to your website. They can also help get your agency's name in front of employers needed to find a staffing agency.
Social Media Advertising Campaigns

Draw both employers and job hunters to your website through paid social media campaigns. You can improve your website's visibility and reach by targeting job seekers and employers on social media.
Submit Your Website to Search Engines

Make sure that job seekers find your website by submitting it to search engines. Search engine submission is a free and easy way to improve your website's visibility online and helps candidates with their remote job search.
Importance of an Email List

Email lists are an effective marketing tool for staffing agencies. By collecting their emails, you can stay in touch with job seekers and let them know about job openings they may be interested in. You can also use your email list to promote other services you offer, such as resume writing and job search help.
You can collect email addresses from job seekers in a variety of ways. You can use a contact form on your website, job board, or social media profile. You can also use a sign-up sheet at job fairs or other events.
Integrate Your Email List

By integrating your email list with your website and social media accounts, you can simplify the process of signing up for your newsletters.
Looking to grow your brand online?
Email Campaign Software Choices

Some popular email marketing software choices are Constant Contact, MailChimp, and AWeber. You can manage your email list and send out mass emails with a good email marketing platform. They also allow for list segmentation and automation.
Establishing Staffing Agency Credibility

When job seekers are looking for a job, they want to work with a staffing agency that they can trust. There are a few ways to establish your staffing agency's credibility.
Testimonials and Reviews

One way to build trust with job seekers is to collect testimonials and reviews from past clients. You can post these testimonials and reviews on your website and social media accounts.
Industry Certifications

Another way to show job seekers that your staffing agency is credible is to earn industry certifications. These certifications show you have the knowledge and experience to help job seekers find employment.
Join an Association

Joining an association related to your industry is a great way to show job seekers that your staffing agency is credible. Associations offer networking opportunities, resources, and job postings that job seekers can access.
Speak at Job Fairs and Events

Job fairs and events are a great way to connect with job seekers. You can use these opportunities to promote your staffing agency and build relationships with job seekers.
Attract Job Seekers and Employers

By following these guidelines, you can develop a professional, easy-to-navigate website that will make job seekers feel comfortable applying for your openings. A simple online application platform with a simple way to send resumes improves your chances of getting desirable candidates to apply for your positions.
If you found this article helpful, please share it with your network. And if you have any questions or are ready to build a website for your staffing agency, our team at Slocum Studio is here to help! Just contact us, and we'll be happy to assist you.