How familiar are you with web design, and how it relates to social media? Read on to learn about 4 reasons why it is important for social media marketing.
Web designers design to solve problems and Artists express themselves. Unlike Artists, Web Designers have constraints.
I tell my friend, "she's an artist," that she can paint anything she wants and call art. I know because when I look at what she paints and ask her what it is, she tells me it's art. Okay, you painted outside the lines– being funny with her.
With more than half of the world on social media and nearly everyone in the US spending time online daily, you'd think businesses would catch on by now. Believe it or not, 27% of businesses still don't have a website in 2022.
While others wait for their marketing budgets to run out, we can start seeing results. Let's discuss the importance of web design for your social media marketing strategy!
What Is Web Design?
Let's discuss web design, so we understand what we're talking about.
Web design is important for social media marketing—particularly their aesthetics and functions.
The idea is that a website (the shape, the look, the aesthetics) should be based on its function or purpose.
The term "web design" is typically used to describe front-end web development, which the user sees.
This offers plenty of opportunities to impress users, but mistakes are easy.
The thing about design, particularly web design, is it has to do more than make pages look pretty, more than the aesthetics. Every feature must be user-friendly, accessible to those with disabilities, and optimized for all devices.
Most web traffic now comes from mobile devices, so it's essential to design your site for all screen sizes. For this reason, many businesses are adopting the "mobile-first" strategy.
Conversely, backend development regards the server, security, and other behind-the-scenes aspects of websites. Having a good web design will pay off in more ways than one. Here are a few examples.
1. Web Design Impacts Everything
First, let's start by explaining why web design is essential for all digital marketing campaigns.
If you think about it for a moment, you'll realize that your website is the only digital asset that affects every aspect of your marketing strategy. Your website entirely determines your SEO strategy, where you direct traffic from ads, emails, and social media.
Without a good website, your conversion rates will suffer across the board. Landing pages are essential, but so is the entire funnel. If users decide to navigate elsewhere on your website, they must do so without interruptions or delays.
It's no secret that users don't stick around for long with slow loading times, unclear navigation systems, or poor user experience. If you intend to use your social media marketing strategy to drive traffic to your website, you must offer a quality user experience.
Looking to grow your brand online!
2. Building a Brand Identity
Every brand can benefit from recognition. Did you know that 94% of the world can recognize the Coca-Cola logo?
Social media is a great place to build and showcase a brand persona or identity, but not always a physical brand. This is because you can upload pictures, specific texts, and videos, but you can't control the appearance of the social page itself.
For example, if it were up to Apple, their Facebook and Twitter pages wouldn't have a spec of blue on them, as their brand tends to stick to neutral tones.
If you want to build a clear brand identity, there is no better place than your website. Here, you can control the fonts, color schemes, messaging, tone of voice, and everything else.
Your website is a blank slate that you can control however you want.
There's a reason why 4 simple colors on a white background are all you need to identify Google. It isn't just tech giants that can benefit from this level of recognition.
Brands of all sizes and niches can build clear and recognizable brand identities among their target audience.
Brand identity is free to build, but the payoffs can last a lifetime! With help from a web design expert, you'll have no trouble creating a unique and recognizable brand across your site! Utilizing social media and your website to the fullest extent is the best way to do this.
Looking to grow your brand online!
3. First Impressions
Establishing trust and building positive associations with your brand starts with an excellent first impression. Have you ever clicked on a website and turned away because the web design was off? Did you ever feel something was a scam because the design seemed too rushed?
To make a good, lasting impression on your social media audience, it's important to follow up quality content with a high-quality website. Otherwise, they may get the wrong impression!
To some extent, we've all experienced something like this.
As a recruiter, have you ever been turned off by an applicant's resume? Think about it from their perspective. They had unlimited time to perfect their resume, and they still made this many notable mistakes, so why would I trust them with my business?
The same logic applies to potential customers. When they see a low-quality website, they assume the brand is not worth their time.
Anyone can build a social media account. However, a good website can offer authenticity to a brand. This is an excellent opportunity to impress your social media audience.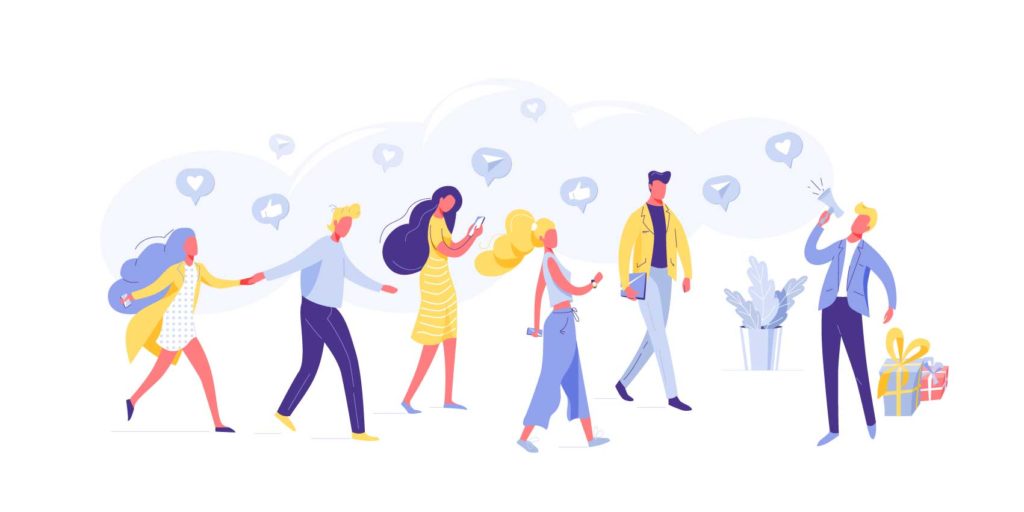 4. Building a Following
The relationship between good web design and social media works both ways. With a high-quality website, you can direct traffic from your website to your social media page. This is a great way to build an organic following and boost website traffic.
For example, if you post new blog content, adding social widgets is a great way to receive free traffic, as users can easily share your content. You can also add widgets at the point of sale or other pages throughout your website.
Conversely, sharing your website content on social media is a great way to build a following for your blog. This mutually beneficial relationship can help make SEO value while increasing your organic social media following over time!
Hire a Web Design Company Today
Now that you know why web design is important for social media marketing, you will have a helpful web design guide. And know how they leverage your website with your social media campaign; put these tips to use today. Building an organic following on social media and driving new traffic takes time, so don't wait!
Stay updated with our latest web design tips, and don't hesitate to contact us with any questions or help with your strategy!
---